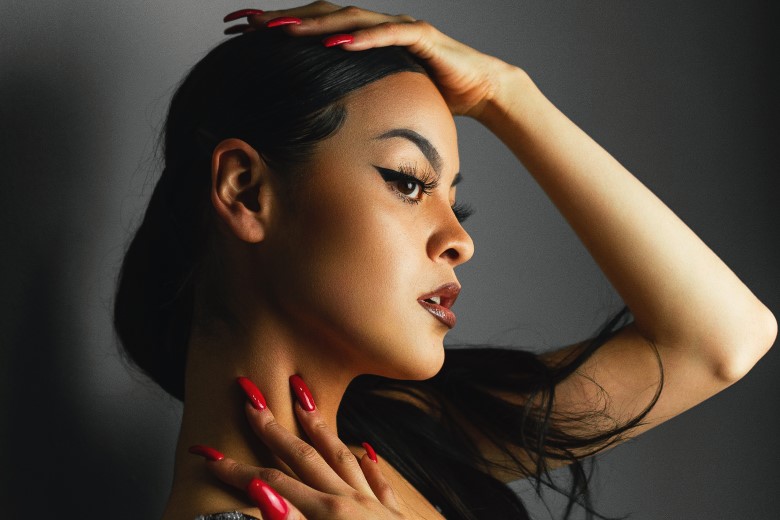 Trending Nail Polish for Dark Skin Toes in Africa
Walk into any nail store, and you will find many options hanging in the shelf. The best colour for your skin is always a tad off. You're faced with products from a different brand and varieties of the same colour. Baby pink, nude pink, and dark pink among others.
The choices are numerous, and as such, it's easy to make the wrong one. For this reason, we find many black women sticking to a particular shade once they find one that matches. However, wearing the same nail polish as you've been since the first day at work isn't the right way to stay chic.
Hence, to make your next salon appointment less stressful for you and your manicurist, we've compiled a list of the best nail polish for dark skin tones based on how elegant they look on other Ebony beauties just like you.
OPI Nail Lacquer for an Ice Queen Look
Source: Pinterest
Experimenting with different nail polish will keep you up to date with the latest trends. This is because nail polish isn't just for beautification. Your choice says a lot about your personality and emotions. Based on that fact, it's no surprise that white polish is making a lot of waves at the moment.
The OPI white nail polish gives a shimmering classic look to your toenails. White shades are contrasting, making them a perfect fit for black skin tones. Forget the theories going around the media. Having white polish doesn't translate to any of the following - "blank slate" "ready to wed" or"naive."
In fact, white nail polish is easy to notice and grabs people's attention. It also says a lot about your personality—especially the part of not being afraid of being on the spot. The OPI nail polish is high on our list due to their three-layer finish. You can choose to stop at the first layer (sheer), second (total coverage) or third, which gives a completely opaque look just like an ice Queen.
The Barbie-Inspired Look with Nails Inc. Plant Power Nail Polish
Source: Pinterest
Pink polish is a common sight in most ladies wardrobe. We understand why most black ladies love them. They're catchy, fun and goes with different outfit. Even better, there are different varieties of pink polish, but we prefer the Nails Inc. Plant Power Nail Polish anytime.
The polish stands out on African skin and creates a black-barbie inspired look. When it comes to pink polish, dark shades does the magic. Light or baby pink gives a sort of playful look most ladies aren't comfortable in.
For a chic look, you don't want to look too girly, especially if you will be rocking those nails at work. The good news is the Nails Inc. Plant Power Nail Polish pink polish hardly chip off but dries quickly. It has a high colour shine that doesn't fade easily. Lastly, you won't have to empty your wallet to get this shimmering polish.
Essie Too Hot Polish For a Bright Orange Fall Look
Source: Pinterest
The key to perfect nail polish for dark skin is to go for one that has a different undertone to your skin. Most African ladies love orange polish for their sparkling look. It takes a bit of confidence to rock orange polish, especially in an era where most black ladies love to play it safe with nude.
The Essie laquer orange is glaring and combined with your skin tone pulls your beauty out of its shell. Aside from its beautifying effect, which obviously is what most ladies are interested in. This polish adds a bit of nourishment to your nails. Hence, promoting nail growth and minimizing infections.
If you are not the attention-seeking type, orange polish might not be the right fit. This is because such colors are attention-grabbing and will always find a way out of its shell even when your toes are buried in sand at the beach.
Conclusion
Picking a nail polish for dark skin requires the same procedures as fighting through hundreds of outfits in your wardrobe just to find the perfect combination. It isn't as simple as picking a pair of shoe. Even though some ladies prefer to match their polish with the colour of their shoe.
The right polish for your toes keeps you trendy and fresh even if you're past your prime. The length of the nails is left for you to decide. However, for working-class ladies, especially those who spend most of their day at the office, you want to balance things up with your work ethics. Disruptive colors aren't the best in this case.