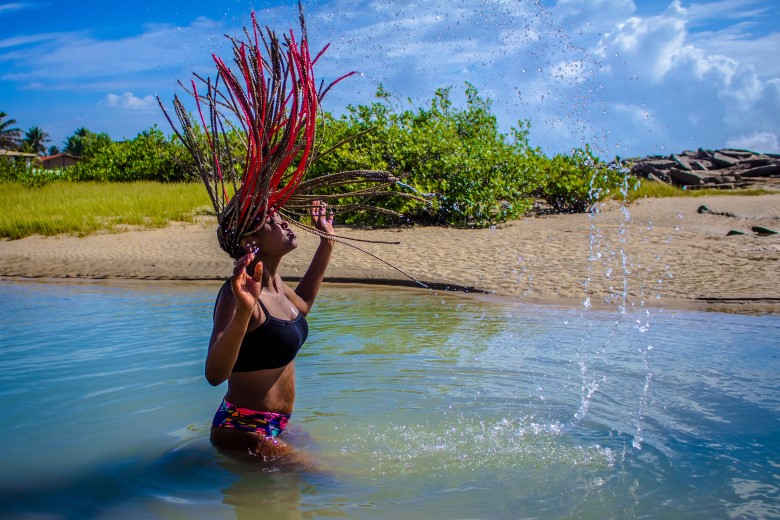 Top Five Colour Trends for Box Braids Hairstyles You Must Try
Box braids are a favourite go-to hairstyle because they are versatile, protective and you can have them for weeks without wearing out. However, box braids can be monotonous, especially if you always wear them in one shade. An easy way to change up your usual look and add some glam is by using colour. If you have always wanted to dye your hair but are afraid of damaging it, then coloured box braids are for you. There's a wide variety of colours to inspire your look for any occasion. Here is a compilation of the top five colour trends to try on your next style.
Rainbow mashup
Stunning box braids in a colour-popping rainbow.
Our favourite pick for a stunning showstopper is this rainbow look on medium box braids. The braids cascade from darker hues stemming from her dark natural hair, to brighter shades of the colour spectrum. To achieve this jazzy look, you can get braids that are already pre-packed in a rainbow palette. Alternatively, the better option is to buy different packs of coloured hair and add them on as you braid.
The advantage of using this method is that you can choose the palette you desire and leave out colours you don't like. If you prefer darker shades, you can make up a palette using blue, green and purple hues, while if you're out for a more vibrant look, you can pick yellow, red and orange hues. This glamorous hairstyle is for ladies who love fun and are not afraid to make a bold statement. To maximise the look, apply your make up in similar rainbow shades. This style is ideal for the ultimate summer party look.
Blonde with curly tips
Long blonde box braids in a middle partition with curly tips.
If you love wearing box braids in brown shades, then these blonde braids are an elegant variation you should try. Blonde colour is considered feminine, soft and youthful, which is a great style if you are still in college or in the transition into a young lady. If your skin is a light shade, blonde braids help to complement your skin tone by giving it a soft glow.
To achieve this sophisticated look, partition your hair in the middle, and then fix the braids in square-shaped knots. You can also jazz up the look using triangle or wavy partitions. After braiding, create soft wavy curls on the tips using rollers or curling threads. To top up the look, you can use hair accessories such as beads, silver rings or like in this case, a silver cord. This gorgeous look is perfect for any college girl, a day out with the girls or for a chilled out brunch.
Mix and match
Long box braids in a black, white and brown mix and match.
White is a gorgeous colour for hair, but it can be tricky to wear on its own. If you want white box braids but are afraid of the overly bright outcome, you can mash them up with soft grey, silver and blonde to create this stunning look. The medium shades like blonde help with a smooth transition from black hair to the white shade. A middle partition gives an overall girly look, but you can sass it up with a side partition and switch up the squares with triangle-shaped or star-shaped braids.
A big advantage of this style is that you can mix and match any colour you like, so it doesn't necessarily have to be white. For the best colour combinations to complement this look, always remember that black and brown go well with any colour. Pastel shades like pink and purple mix well with soft blues, while brighter tones of yellow mix with shades of orange. However if you are out to create a striking contrast, go for opposite colours like black and white, or purple and yellow. You can also try different shades to create your own personalized statement look.
Cobalt blue
Long cobalt blue box braids with a top knot and wavy tips.
Do you want to wow people with your look? Then this show stopping cobalt blue is guaranteed to turn heads everywhere you go. The style is a perfect campus girl look and is great for summer and party looks. For maximum effect, choose a bright striking shade of blue instead of the darker hues, which look a bit dull. If you want to add a little fun, throw in a single purple or pink braid in the mix and use bold accessories like rings.
For cool shades like blue, green and purple, silver accessories work best. Gold accessories are good for warmer shades like brown, burgundy or blonde, so don't mix them up. Finally, finish the ends with cute curly waves that give a feminine vibe. You can tie up the braids in a half-up half-down style, or let them fall seductively over your shoulders. Whichever style you choose, these box braids are sure to make an impression that will last for a while.
Burgundy brown