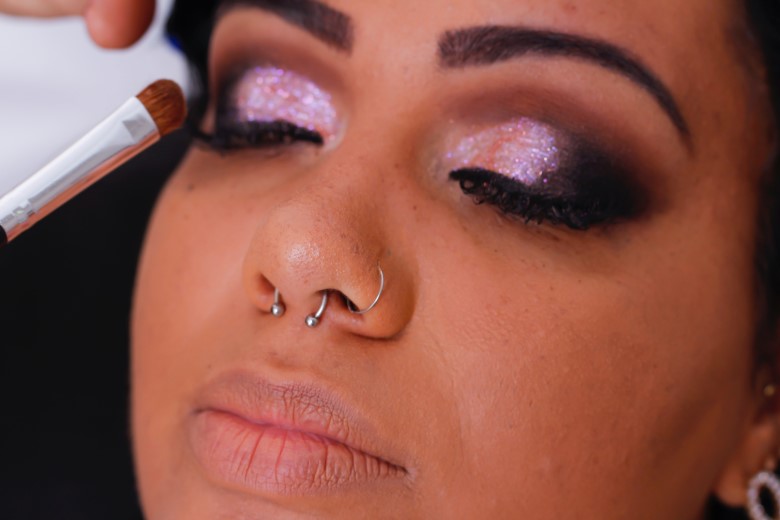 Top 3 Girly Makeup Trends for African Queens
This year's makeup trends are full of twists, turns and unexpected surprises. Who would have ever thought that we would be wearing makeup with a facemask in 2020? Despite the surprises, makeup trends keep getting bigger and better. Well, we found out the top three girly makeup trends for your chocolate skin.
Glitter has made a huge comeback in 2020 and we love it on everything
Source: Pinterest
Well guess what ladies, glitter is back with a bang! Nothing screams chic like a little shimmer and shine. To add sparkle to your glam look, try a glittery metallic eyeshadow or a dash of glitter on your cheeckbone. You could even wear a shimmery lipgloss for the maximum glitter party.
Bright colour palettes are the next best thing to glitter
Source: Pinterest
The second biggest girly makeup trend is wearing bright and bold colour palettes. Colour makes your makeup pop and is a great extension to your personality. Choose intense hues like pink and red if you're feeling a little extra. For a more subtle yet sophisticated look, bronze and gold is your favourite go-to colour.
Tribal art is making a slow and steady entry into the makeup scene
Source: Pinterest
One of the best things about being African, and Nigerian for that matter, is the sophisticated tribal art. Well, now you can incorporate tribal art to glam your makeup look. Plus it doesn't have to be dramatic or over the top. Use eyeshadow sticks or pencils to draw your tribal marks and slay the African way.