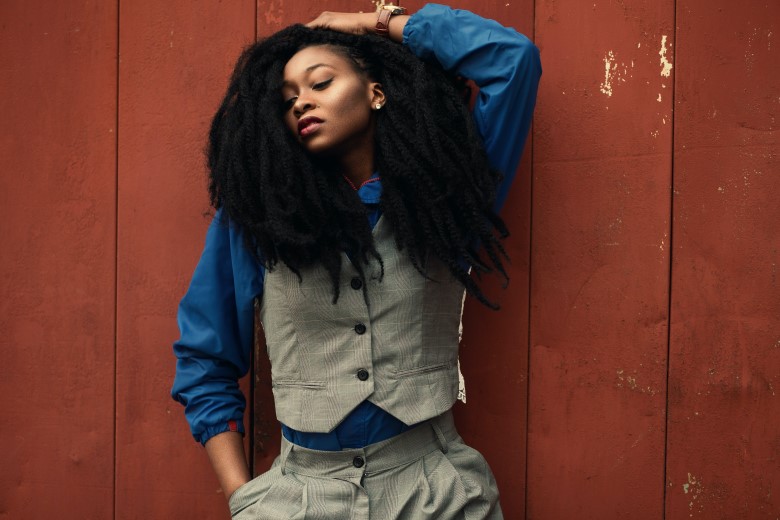 Top 10 Twisted Locs Styles for African Fashionistas
A lot has been said about locs and their innovative impact on every lady's hair game. First, they're easy to wear and could stay on for weeks or months. Fortunately, locs have gone beyond the days of Whoopi Goldberg when they were one dimensional.
Today, there are so many style varieties you could pass on as Zendaya on the red carpet.
Your hair length doesn't matter, and the twists provide an accentuated look you wish you can rock forever. Make no mistake, locs are also meant for formal occasions depending on the one who rocks it. From short to long, pixie to shoulder-length, in this guide, we bring you the top ten twisted loc hairstyle for African fashionistas and the benefits of each one.
Faux twisted locs
The biggest issue with twist locs is that they might start to detangle before the hair locs on its own. Well, this probability is even more in individuals with soft hair, especially those that are relaxed. Not to worry, faux twists are the solution to that, especially if you have short hair.
However, as simple and easy this locs look, a whole lot is going on in there. If wrongly installed, they could lead to hair breakage, and on the long run strips the scalp of its oil. You want to think twice about your grooming habit before rocking them.
The issue with faux twists though is that they are difficult to maintain. Fashionistas who rock them keep them away from water for months. This leads to flaky scalp and an unusual odor that might choke the person sitting next to you on a bus.
But this isn't just a thing with faux locs. It's common to all twisted locs. The general rule of thumb is to go for styles you're most comfortable with. Faux twist locs shouldn't be an antidote to laziness. It won't hide your frequent attitude of leaving your hair unkempt. If you're not one to dab hair oil on your locs once in two days and your hair is dense, you might not find faux twists as an interesting piece of hairdo.
Comb Coil
If you've decided to debut a loc twist on your natural hair, you will be confused about which style to go for. Already, there are several loc styles, throw in the varieties, and you will be overwhelmed with choices. There are starter twist loc styles, and the results you will be getting will largely depend on your hair color, texture as well as length.
If you're not sure which one will suit you best, you want to go for low-risk styling option such as the comb coil. It's one of the simplest loc styles and can pardon beginners errors. By this we mean, if not properly done, the risk of hair damage is lesser than with faux twisted locs.
Comb coils are the ideal choice for 2-3 inches of hair. Also, they can be done on hair of different texture, but the result is better on dense hair. The way to do this is to create a pencil-sized loc by rolling small strands of your hair around a twist comb.
However, there are certain things to keep in mind when you make comb coils. First, the longer the hair, the longer it will take to loc. Secondly, the coils could react to water, and if you have soft hair, contact with water might untangle the loc.
Sisterlocks
Sisterlocs are the most luxurious range of all loc styles. They're the best styles for red carpet events, a night at the cinema, meet and greets or beauty pageants. They're suitable for individuals with an active lifestyle and can also serve its purpose on the beach. This is because sisterlocks are lengthy and wavy. Even better, they don't take much to maintain, and you won't have to invest in a lot of hair products to keep them looking their best.
Just so you know, locs will save you a lot of time. You don't have to worry about changing your hairstyle but the key to a flawless look and to ensure they don't detangle after a short period is to pay attention to the edges.
Sisterlocks vary in sizes. The strands can be "pencil-sized" or larger depending on how you want them to look. Its longevity depends on your hair texture as well. Sisterlocks can last for a year or more on fully relaxed hair but could be less on virgin hair as they're likely to lose their shine quickly.
The most challenging part of sisterlocks is that you have to be careful with the locs at the earlier stage. Even when they're 4 months gone, the locs could detangle under pressure. The best part is that they give you a lot of styling options. Bun, or wrap to keep them from flying in your face during a workout.
Loc with Two-strands twist
Of course, if you're tired of regular two-strand twists you can switch to a loc. This way, you can rock them for an extended period even though you have to sacrifice little time for maintenance. Unlike simple two-strand twists, locs on their twists tend to swell over time, altering the original size.
More than others, you need to consider this factor, so you don't end up with thicker twists than what's intended. The trick is to settle for the possible size the twist will appear in once they mature. This factor will help you determine the starting size.
Still, on its size, locs on two-strand twists could be anything from as short as 4-inches of hair, but you can slowly incorporate into longer hair strands. You're at an advantage if your hair is highly textured as this will give them solid foundation.
The downside to this type of locs is that they tend to become frizzy. As the hair starts to grow, the lines of the strands are slow to disappear, and they look less attractive. Also, the twists can easily unravel from the end, but you can loc them back by using a twisting comb.
Locs With Extension
We know, locs could take a lot of time, and it can be tiring. Not to mention developing pressure sore for sitting at a spot for hours. Sisterlocs, for instance, could take as much as 12 hours, depending on the size of the strands. The smaller the strands, the longer it takes to install.
Individuals who don't want to pass through this stress can instantly achieve the kind of locs they want by installing twisted loc extension. The extension will be attached to a human hair fibre. Fortunately, you can find any style of loc you want on extensions. There are extensions for sisterlocks, two-strand twists and even brotherlocks.
Also, you can control the growth with a twist comb to achieve a uniform look. The drawback to this loc style is that combining extension and synthetic fibre will make your locs heavier and you're limited by the color of the extensions. No matter how hard you try, you will never experience the flexibility the natural hair provides. Taking the easy way out, you are sure to miss out on some experience.
Locs on twist braids
Locs allow you to add a new dimension to plain braids. If you're a fan of twist braids, using loc is a way to ensure you don't have to change your hair week in week out. This is particularly great for starters and Individuals with short hair. College students will love this as well as it allows them to take some time off the hair game and invest it in other areas.
But the biggest selling point of this type of loc is that they minimise sweating in the scalp. This way, the hair doesn't get dirty easily. It also minimizes odor and is a perfect choice for starters who wish to maintain their locs with occasional interlocking.
You can loc twist braids of 4 inches of hair length. The texture doesn't matter. Just that, the result varies from one texture to the other. Expect to have twist braid locs on for 6 months. The only downside is that it takes a while for them to feature like real locs. This is because the braid pattern tends to stay on and with a long braid, it won't disappear easily.
There's little you can do to change that but you can ensure the braids don't untangle at the end by either styling or threading. The good news is braid locs can use comb twists or palm rolling for maintenance
Dreads with twisting
You can create locs with palm rolling as well as twisting. Although they're easier to create with palm rolling, the result with twists is better and the effect is also longer. Using twists, you're able to gather all new growth around the root and loc them in between your fingers.
To create this type of twists, you need to move the hair in a clockwise direction until the strands begin to coil. Also, you can enhance the results by using waxes or gels so all the hair stay put in the same direction. However, the issue with this style of twist is that sooner or later, new growth will arrive. And if you don't have time to carry out maintenance, the twists begin to unravel at the early stage.
In practical terms, if you wish to have the loc on for an extended period, you will have to use a host of hair products. This is because you have to deal with a lot of buildups and as the locs begin to mature, a host of residues will develop on the scalp.
If you have this type of locs on for long, you will experience a bit of dryness at some point. You can find a remedy to it by using loc kits. Contained in the kit are a host of products which will help your locs look as sleek as brand new once again. However, you must do this with caution. Excessive use of these products will prevent your hair from losing faster.
Goddess Twist locs
Goddess locs are similar to faux locs. However, we categorise them in the same A-list group as sisterlocks. We've seen this a lot of times on Influencers and they gave expensive human hair extensions a run for their money. This is because they're lengthy, sometimes wavy and sleek.
This loc style has more dramatic styling compared than interlocs. The most noticeable difference is that the hair used for this are usually long and soft. It won't come out well in high textured virgin hair. The best effect is seen on soft human hair extensions. The kinky texture won't give the kind of shine you want.
This means your hair type can make or break the goddess hair look. Also, most people who go for this hairstyle have to find the best hair extensions for it. For the African lady, your natural hair won't meet the standard. This is because the hair you can make goddess locs on has to be light and with a sheen texture. To achieve this, we advise you to find hair that will retain their shine for a minimum of 6 months.
Long dread style
The length is yours to choose. The goal is to be adventurous while still maintaining your comfort zone. We've seen most ladies go for excessively long locs that ended up becoming difficult to handle. With long twist locs, you need to consider their weight as well as your lifestyle.
If you often have to rush out of the house every morning, it's obvious that you won't find enough time to attend do the locs. Also, the length will always get in your way at the office no matter how hard you try. The remedy will be to style in a bun or any other style that takes the long strands off your face.
The longer the loc, the more time the stylist has to invest in it. Long twists could take 6 long hours to make. That should tell you how often you have to carry out maintenance.
Short twist loc style
You might feel left out if your hair length won't pull off the goddess loc look perfectly. If you are not a fan of hair extensions, there are several loc styles for short natural hair. Ideally between 2-4 inches in length. However, this one is not adventurous and you might not be able to flip them.
The advantage is that this loc style keeps strands of hair off your face. And you can style them into different forms. You can also accentuate their look with dye and you can also make into an updo while you go through strenuous daily routine.
With this style, you can afford to be creative. But you need to watch out for new hair growth. The key to looking glamorous is to ensure the locs are clean sand dark. You can regain its sheen with some hair products but the most important thing is to ensure the scalp doesn't dry out to a point it starts to itch.
Conclusion
Twist locs give you a lot of styling options. They allow you to disengage from the league of boring everyday styles and adopt the looks of A-list fashionista. You can easily find one that suits your hair length and texture. However, twist locs appear better on smooth, soft hair than kinky or high textured hair.