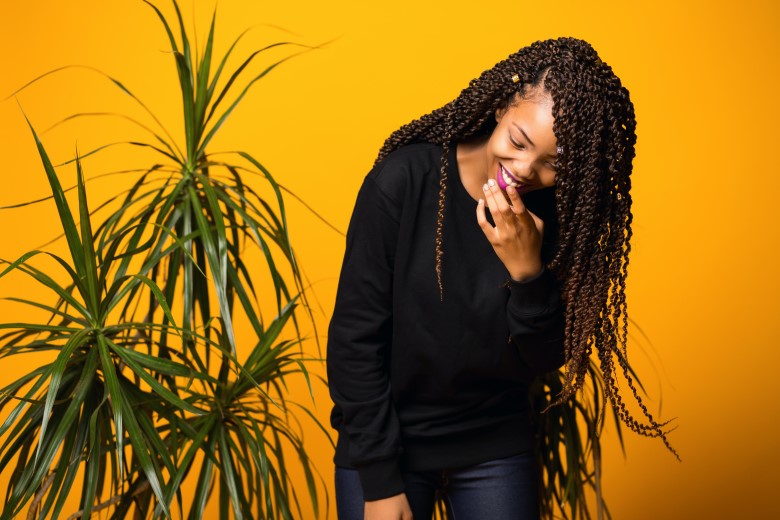 Top 10 Trendy Twist Hairstyles For African Ladies
Twists Hairstyles are a top choice among African women. They're quite popular and can be worn to several occasions without doing much to stand out. In case you aren't aware, twists offer much more than improving your appearance and unraveling the "African Queen" in you.
They offer a diverse styling option and serve as a budget-friendly means of looking your best. The biggest benefit is the protective feature they offer. Since your hair will be weaved along with an extension when making twists, they act as shields for your natural hair and in some cases, induce hair growth.
If you're still among the few who think expensive human hairs are more chic than braids or twists, you're in for a weird awakening. Here, we present to you some of the trending twist hairstyles as well as the benefits each style delivers.
Crochet Twist
Source: Pinterest
There's a growing wave among African ladies over crochet twists. In some ways, it kind of suit almost everyone irrespective of whether you have short or long hair or declining hairline. Crochet have a way of adding a bit of class to your fashion sense.
Apart from its exciting look, crochet is good for your hair which is why most women can't do without it. This is because popular styles such as Marley braids find a way to remove hair from your front hairline. Crochet, on the other hand, induces fast hair growth and minimise breakage. This is because the style serves as a protective cover and to some end, traps oil which moisturises the scalp.
Also, crochet twists can be styled in different ways and can be worn for an extensive period, on average, 3 months without locking. There's also an option for experimenting with colours and it can be temporarily styled into a bun, afro or curls. You simply have to play around to see which meets your standard.
Crocket can be worn to different occasions. Official events such as a Pageant show or night out with the girls.
Halo Twist
Source: Pinterest
Halo twists just as the name suggests are shaped like a "halo" and will pretty much sit on your head like a crown. To some extent, portraying the African Queen that you are. Halo twists look better when your hairline is smooth and properly laid out to give a sleek look. The smoother your edges , the easier to pull off.
Halo twists are quite practical and might look confusing but in reality, they're an advanced form of braids. A halo braid looks better on relaxed hair . This is why you need to give your hair extra hydration.
The downside to rocking this twist type is that your scalp will be difficult to oil since the twists are tightly sitting on it. It's good practice to, therefore, oil your hair before making halo twists. However, if you skip this step, you can still make up for it by using the spray bottles.
Marley Twist
Source: Pinterest
Marley braids are quite popular among African ladies but the twist version takes this style to a whole new dimension. The reason people love Marley twists is that they're super comfortable to rock and can be worn with our natural hair
Marley braids are worn by A-list celebrities and have several style inspirations to try out. From Keke Palmer to Solange. The biggest advantage of using Marley twists is that you don't have to change your styling daily. They don't require a lot of maintenance making them the perfect option for people who often have to rush out of the house.
Now, if you will need something that allows you to play around with colours, Marley twists will be your plugs. They also have braiding extensions for you to try out and they come in different styles: short, ling, shoulder-length, ponytail or even ombre.
Marley twists might look a bit old school and too edgy to wear an important event. Worry not, they can be worn in an elegant manner. Just focus on the style that aligns with your personality while resistant the urge to go overboard
Flat Twist
Source: Pinterest
The origin of flat twists dates back to the era of slavery where indigenous African women made their hair into what was seen as an "elaborate" hairstyle during special events. Flat twists are probably the oldest form of twists but still has a place in the modern world.
Flat twists are quite simple to wear. You can do it on your own and they don't have to be much. You can braid them into 4, 5 or even 6 strands. However, flat twists do more than just improve your appearance, they're perfect for minimizing hair breakage or knotting.
Despite its popularity, flat twists aren't to be worn for long and are not a great option for individuals who love to rock a specific hairdo for an Extended period. They're just a short term fix and can be worn under a wig.
Flat twists aren't the most creative option but it's a great way to incorporate every strand of your hair. It's quite great for women with short hair and those with virgin natural hair as it seeks to strengthen their curls while retaining its shine.
Two-strand Twists
Source: Pinterest
There are a few loopholes with flat twists. First off, they lay too flat on the scalp and aren't chic enough to wear on a daily basis. This explains why they're hidden under wigs and extensions. The two-strand twist is an upgrade over the former in different departments.
First, two-strands twists can be combined with other styles which include afros, straight braids and even flat twists. When making this hairdo, the hair is divided into two sections twisted to meet at a point. The length of the strands depends on the length of your hair. Regardless of your hair length, this style isn't overwhelming and neither are they difficult to unwind.
The benefits of two-strand twists outweighs that of flat twists. For some reasons, it locks moisture into the hair and keeps it tangle-free. You won't have to do pretty much in terms of maintenance and there's reduced breakage.
In summary, they act as a secondary layer of protection and you can have them on for a few weeks if not months. Having it on, you will still be able to condition your hair and manipulate its shape. It can be styled into a bun as well as an afro. Whichever way you want it.
Three-strand twists
Source: Pinterest
Natural hairs aren't the easiest to manage. They get tangled easily and don't produce the best results when they're made into a braid. There are a few styles that can handle the curls of natural hairs without ruining it permanently. Two-strand twists does a decent job at protection but three-strands are much more refined and see so tight there's a guarantee they won't unwind on their own.
Three-strand twists produce more defined twists that will last for a long time without any need for touch up. The results are impressive and you can develop curls that will improve your hair texture. As with other hairstyles, three-strand twists have to be properly moisturised to lock in nutrients that would improve hair growth.
Due to the tightness of the twist, it's easy for your scalp to dry out if not frequently oiled. If this happens, you develop dandruff that would rub off on the shine of the style. Three-strands are much more presentable than two-strands. This is why they can be used in both formal and informal events.
What's more, three-strands give your hair more elongation and are less frizzy. If you choose to rock this style with your natural hair, the length will be limited but with extensions, you can style into a bun or ponytail that won't tire you out.
Yarn Twists
Source: Pinterest
There are a lot of misconceptions about yarn twists or braids. To most people, it's seen as a low-cost option and fit for those who are "broke" but that's not the case. If you take your time, you will realise that yarn twists aren't less classy than other braid styles. The only difference is their texture.
Of course, you can't use your natural hair for this hairdo. You have to get acrylic yarn and have them braid your hair along with it. Depending on your hair length, you might need to get up to 3 packs.
Yarn twists look a lot like dreadlocks but it won't permanently lock your hair but the edge of the yarn will be sealed to prevent the twists from getting messy. However, you have to burn the end which makes it obvious that you're using an extension.
Although yarn twists will be easy to maintain, your hair can dry up easily if you fail to moisturize daily. This is why you need to moisturise your scalp daily to prevent the twists from looking rough.
Kinky Twists
Source: Pinterest
Kinky twists are the most trendy protective style to try out. They're perfect for individuals who want to protect their hair from moisture without needing to lock it. Also, kinky styles are perfect for natural and relaxed hair.
The biggest advantage with kinky twists is that they require less maintenance. 30 minutes is enough to dress it up daily and it blends with different outfits. If properly maintained, you can rock the same hairdo for at least 8 weeks provided the edges receive frequent touch-ups.
The only drawback to this style is that they would eat up your time if you try to install on your own. With a professional, it would take less but you have to invest as much time when unravelling.
Also, kinky twists are bulky and uncomfortable having them for long. Even in a bun or ponytail, it's pretty difficult to sleep on without feeling the weight on your head. Lastly, there is a limited settling option with kinky twists. However, this gives you the time to master a particular type of style you can execute quickly and effectively.
Senegalese Twists
Source: Pinterest
The Senegalese twist is a protective styling option for natural African hair. It suits the dense texture of natural African hair and protects it from heats or other styling tools. The Senegalese twist prevents breakage and has the potential of improving hair growth as well as moisture retention. The best part is that if you want a lengthy twist, you can use extensions.
With a Senegalese twist, when using an extension, the hair you choose must match the shade of your natural hair. However, if you want to try different tones, ensure the assorted options you go for are complimentary. The twists can be anything from small and medium to large.
Despite its benefit to your natural hair, they look better on extensions as well as relaxed hair. Extension seems to hold the twist far longer than natural hairs but they're not cost-friendly. With extensions, you will need close to 5 packs. With this number, you can tell that this twist will be bulky especially if you opt for a full length.
Styling a Senegalese twist is time-consuming. It might take up to 4 hours at a stretch depending on the ability of your stylist. The good part is unwinding the twists aren't as difficult as putting them on. Once you bring them down, ensure your scalp is properly moisturised, and if possible wash your hair with shampoo before wearing your next braid.
Long And Thick Twists
Source: Pinterest
Most women choose to rock long and thick twists that another style type. This is because it's the easiest way to rock these styles while giving your scalp some space to breathe. The only thing you need to do is to ensure your scalp is clean as most of it would be on display.
The best thing about this type of twist is that they require low maintenance and can be styled into different forms. They're easy to manipulate and allow you to work on your edges to improve its appearance. There are several days you can style a long braid without feeling overwhelmed. The most popular option for most ladies is either a bun or a ponytail.
Rolling into a bun is then the best way to keep its end out of your face and to make sure it's secure for you to work at the gym. To create a bun, you need to first work into a ponytail before slightly rolling over the top to wrap things up.
Another stylish option for you is a ponytail. This is a perfect idea if you would be hanging out with a few friends. Ponytails are casual and friendly to wear at work. Long braids are easily the simplest to unravel and appear better when made with an extension.
Try your Trendy Twist Hairstyles!
The versatility of twists means you will never run out of options while rocking them. You can style into large buns, ponytails or leave them just as they are while working on the edges to ensure they're properly laid.
There are little tricks that ensure your twist comes out the way you want. The fuller, the larger your face feature you highlighted. However, large twists don't take as much time to make compared to tiny ones. If you have thin twists, it's better to work them into a bun so they don't stick out in your face.