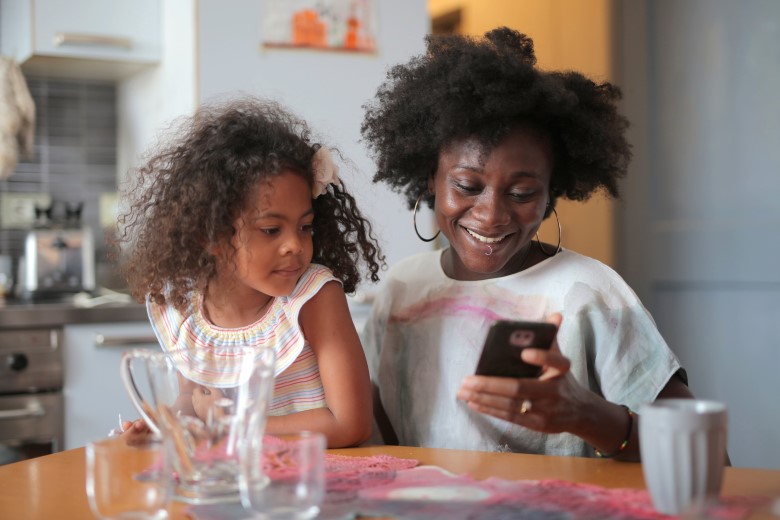 Top 10 Low Maintenance Braid Styles for Working Mom's
For the busy mom, between working in 9-6 shifts, comes the added responsibility of running the house. Bathing the kids, getting them ready for school, and fixing meals for the family. The only time we get to fix our hair is over the weekend and you had better use that time to make something that will look its best all through the week.
As much as we love to hide those shambles of a hairdo under a wig, rocking "all back" isn't the best way to stay chic. If you are short of time or always busy with house chores, this post will serve as an inspiration to you.
As a working mom, it might be tempting to style your hair into a bun but it's not exactly the best way to treat your hair. Not only do the edges thin out, but it might also results in hair loss. For this reason, we've come up with a couple of braid styles you can rock for weeks with little or no maintenance. No need for edge control, incessant combing, or installing beads. Just dab a moisturizer and you're set to hit the road.
Ghana Weaving
Ghana weaving has received a lot of sticks from African ladies off late. It poses a lot of damages to the hair and tends to uproot the front hairline. Nevertheless, we love Ghana weaving for their maintenance factor and if truth be told, the bad rep the style has received is due to the incompetence of the stylists who still haven't gotten a hang on it.
If you manage to get someone who knows the drill, Ghanian weaving is the style to have on for weeks. You can go through your day to day activities for weeks forgetting that you have to change your hairdo. If you have short natural hair, you want to accentuate its length by using synthetic hair attachment.
For a more cost-savvy option, Brazilian wool is another one to consider. Few wraps would do and at the end of the day, you won't have to break the bank. Synthetic hair attachments have a longer usage period and they tend to look their best far longer than Brazilian wools who easily dull up after a few weeks.
With Ghana weaving, you only have to moisturize your scalp every morning to prevent dryness. Aside from that, you're good to go.
Box Braids
Box braids are no longer the African thing, they've gone universal. It works for both natural and relaxed hair and the best part ? It adds a layer of protection. On average, you can have box braids on for 6 weeks without thinking of washing, twisting, or using edge controls. I call it the "lazy mom's" hairdo
They're pretty versatile and you will never have to invest in hair products to keep it functional. Coming to the visual part, at first sight, these braids look like a bunch of braids scattered around your head. They got their names from the box pattern created around the braids but the shape can be altered. After all, we've seen a rectangle and even a triangular pattern.
Box braids have a wide range of variants. You can install extensions to save you time or work it on your natural hair. These braids styles are not only a go-to option for busy moms, they can also give you a break from hair extensions. In short, they're perfect for every occasion and it depends on you to choose which color suits best.
Also, they double up as a protective styling option that keeps the edge of your hair protected from environmental factors especially during harmattan seasons where hair breakage is likely.
Braided Updos
Rocking the same braid style could get boring, updos allow you to add a new dimension to your look without doing extra. It can turn boring braids to eye-catching looks you can rock to formal events at the office. Once you have different updos up your sleeve, you can feature different looks every day with the same hairstyle without people even noticing.
Well, we know working moms aren't stuck at the office all day. There are social functions within the week as well as at the weekend. What better way to look like a sweet sixteen then trying the braided half up. This is music to the ears of those with braids where a large chunk of the hair is flying behind.
Plus, it's best for fancy events such as weddings, dinner party or gala nights. The spark is always the top while the half down adds to its volume. Another updo worth looking out for is the Mohawk. This is quite a bet for working moms who want to keep their braids from flying in their face while working out, cooking, or doing the laundry.
Butterfly braids With an Updo
Butterfly braids are seen as lengthy, the reason most busy moms steer clear of it. However, it doesn't have to be that way if you know the right Updo to style along it. We admit, they're not the typical style to take you for 6 weeks. The edges will start ripping out by then and they may start dulling out.
However, the few weeks you will have them on, they will be so comfortable you will hardly notice you do unless when you have to tuck them into your shower cap. Plus, they won't require maintenance and looks amazing on relaxed hair.
If you're not a fan of long wavy butterfly braids, we have the perfect solution for you. It requires no hair product or childish beads, you simply need to change their shape to shorten those extended lengths.
You have a couple of options to choose from. From halo shape and ponytails to crowns. Halo braids look glamorous and gives a distinct shape to the face. They look better on individuals with round faces and with a nice sunshade, you will have nothing short of the killer mom look during the weekend.
Butterfly braids are thick and you can add color to the edges if you want to style Into a crown. Halo and crowns are perfect for formal events. It's the best way to look cheek without doing too much.
Box Braid with Curls
Call it the busy mom's version of "goddess braids" if you want to but one thing that's sure is that you will turn a few heads with this hairstyle whether you're a mother of one or two. We admit that they're long and wavy and might cause a few distractions at the office but there's no better way to look chic for a few weeks while giving your wigs a long rest.
This will give you a confident look at work and you can spin your hair around while stuttering in with your stiletto. You could get a few admirers even with the ring on your finger or you could win more clients.
Nevertheless, you will be glad to know that this style is one for the red carpet as well. You can choose to add the curls at the end or in between, whichever one works for you. While you want to keep them miles away from water, you will want to retain its shine for as long as possible by adding hair moisturizers.
Two-strand twist braid
Two-strand twist brand despite the incredible number of styles that have surfaced over the last few years still stand tall. It's a quick hairdo and quite casual. We admit that this isn't one you want to have on for a long while. It's a short-term fix but the period you have them on, they will do a lot of wonders for you.
You can make this hairdo on your own at home. It won't take you more than 10 minutes and you get a chance to tuck every strand of hair off your face. From ponytails to more adorable half do, there's no limit to the amount of style you can execute and new styles keeps emerging every day.
This versatile hairdo will work well for work, or special events such as a picnic, product launch, or night out with friends. So it's definitely a way to keep your hair tucked behind instead to have them flying in your face. Lastly, having your hair in this type of braid serves as a protective cover. It minimizes hair breakage.
Knotless braids
If you want to have. a perfect idea of what knotless braids look like, look back to Beyonce braids in her video - Formation. We know, you all thought they were normal braids that's not quite. There are lots of distinction between knotless and box braids.
For instance, the braiding process for box braids is painful. The stylist tucks the hair tightly from the roots to ensure no strand is left behind. The ache that comes with this can last for a few days and in worst cases, upsets your schedule.
With knotless braids, you have a less painful process however be prepared to devote a considerable chunk of your weekend to this kind of braid. On average, it would take 5 hours depending on your hair length. However, what's guaranteed is that you will spend a lot of time adjusting on your stylist chair.
Away from the hassle, knotless braids tend to last longer than box braids depending on the texture of your hair. It also creates less tension around the scalp and just a little hair will be ripped off. With that said, you need to pay attention to the strands and be ready to renew when things are getting messed up.
Bohemian shoulder-length braids
Who said you always have to keep it short just because you have your little ones to take care of? Well, motherhood shouldn't kill the fashionista in you, and what better way to get back to your A-game than making a statement with the Bohemian shoulder wave.
It isn't an everyday look but one you need to rock to be taken seriously. Also, you don't need to worry about your hair length. This doesn't come out well on natural hair anyway. You will need a good hair extension and common, don't we all have that hair we want to die for?
If this sounds like a good idea, then you can try it out and see how it looks on you. But we must warn, if it comes out perfect, you will have to wade off a few eligible bachelors starring your way. And if you're still waiting for your missing rib, this could be the magic wand to draw him to you.
Pineapple with a curly updo
We have had many mums turn this down with excuses like "it's too basic" or "it's for college kids". As much as you can make this with your natural hair, you can use hair attachments if the length of your hair is too embarrassing to rock.
Trust me, Pineapple Updo is far from a college hairstyle, they're cute, chic, easy to do and it takes a lot of stress off changing your hairstyle for a couple of weeks. You don't need to use hair accessories since most moms are scared ribbons will make it look more childish.
Plus, it works on hair of different lengths. Long, short, or medium. We prefer to have your braids on sleek relaxed hair but your natural hair will do especially if they're curly. In the end, the style would allow you to change things up into an Updo.
The best part about this style is that it can have an Updo that's curly while the bottom will be braided. Most of the time, you simply have to ensure the curly top doesn't get tangled and messy while you roll on the bed. With a little bit of maintenance from you, you're more likely to minimize frizz.
Braided Ponytail on extensions
A braided ponytail is a switch to your everyday look. Its casual yet creative ad would require less maintenance than when you have your hair flying around. With your hair tucked in a ponytail, you won't have to carry out daily maintenance such as combing.
It's also a great way to tuck your hair back while you work at the gym, in your office, or while taking a stroll in the park. You can play around with colors, lengths, and patterns. You're also free to add accessories to create a fabulous look
If you haven't tried this look, now is the time for you to do some experimenting. The braids do will act as a protective coverings and despite being a quick fix, the results are worth it. Depending on your hair texture, braided ponytails could last for as long as a month. But in between, the braided part might need to be maintained.
Conclusion
There you have it. We've made a few selections that won't stress you out nor take a great deal of your time. To ensure we're on the same stage, "low maintenance" doesn't in any way mean you should dump all your hair care routines. With this braid, you might not need to comb every morning before you rush out to work. Nevertheless, we expect you to oil the scalp very well.
Some of the braids might not need packing while others do. For those who need, you might need to bring them down a few times to be able to oil properly.