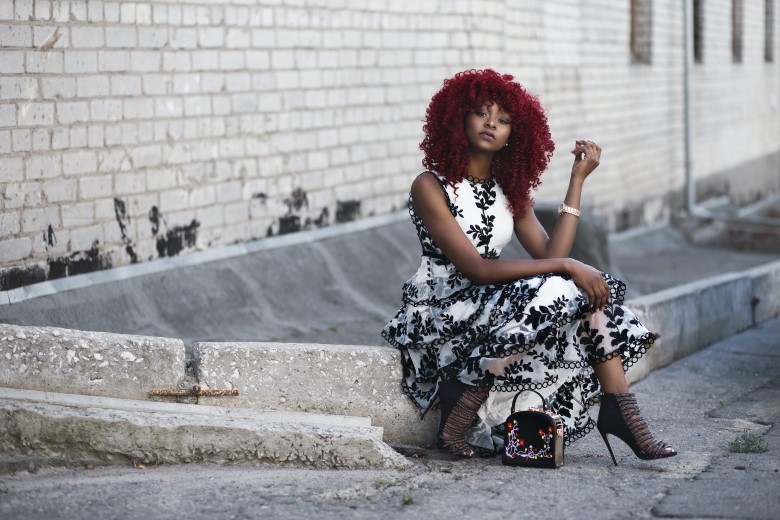 Top 10 Curly Twist Hairstyles for Special Events
In this modern era where women are meticulously expensive in their hair game, for the African woman, rocking your natural curls with a little twist can be seen as less aesthetic. Nevertheless, there's a moving train of the African woman stealing the show in her rather cost-savvy hairstyle. It goes toe-to-toe with the most expensive human hair wigs and turns head as they behold her beautiful sight when she walks through the door.
If you seek to stand out without hiding your natural hair under a wig, we've got you covered. Allow us to share the top ten curly twist hairstyles you can wear to special events. Weddings, award nights, movie premiers, or pageant shows without looking out of place.
Two-strand Curly Twists
There are reasons why hair extension catches people's attention. It isn't always about length or texture but its shine and glow. If you will be rocking a two-stand curly twist to a special event where all eyes will be on you, you want to ensure you do a lot more than relying on the magic touch of your hairstylist.
Your twist is the holy grail of your look, and of what good is it if it isn't noticeable. For this reason, you want to work on the texture of your hair towards the end. You will need products that will make your curls appear so juicy your crush can't help but stare as you walk past.
If you're a person who loves to install hair extensions for added length, you want to go for twists that compliment the color of your outfit. For your natural hair, black is gold, and with a little bit of shine and softness, you won't be a walkover at the party.
As many curly twists serve your best look, they're easy to make and could stand the test of time. With the right product, you can have your curls and twists locked in for a number of weeks and even wear to numerous events. You simply have to shuffle things over, so it doesn't seem like you're running out of ideas.
Curly Crochet Twists
There comes a time in every woman's hair journey where you've exhausted all available options; crochet, regular twists, cornrow, ponytail, and goddess braids. You've tried all varieties, and despite the limited choice, you just have to pull out something new from your sleeves.
Curly crochet twist is that innovative hairstyle that's considered to give a glamorous look you seek on the red carpet. You could go for full-bodied curls or half-curls. This takes your curl game to the next level and gives your admirers something new to look forward to.
With the crochet curls, you can add a little bit of crochet extension to the end, so the curls flare out at your back. However, you can also install the extension from the beginning of your hairline, especially if your natural hair isn't too sleek.
So whether you're looking to mesmerize an ever-demanding audience at a pageant show or would be walking on the red carpet, you have several crochet twists option at your beck and call. The option is truly endless, and you can shuffle between colors and length that best suit your personality.
Twist out Curls
If you've taken a break from hair extensions and wigs and want to wear your natural hair to every event, no matter how demanding it gets, twist outs are the best way to remain chic without falling down the lane of "all back" or "shade adun."
They always look amazing, particularly on short hairs with curly growths. Also, they keep your hair tucked away from your face and could be a great way to appear in events within your cycle of friends who have no idea what you look like on your natural hair.
It's the perfect way to create a style craze, plus it takes the most confident of all ladies to pull this one off without using extensions. Even better, you will be happy to know that you can create twist outs on your natural hair by simply curling your hair around your fingers. You should go in section by section till the whole hair is completely drizzled.
We've seen twist out on a couple of long hair, and they look nice, but it sure would be time-consuming to execute on your own. Nevertheless, this style fits different occasions but might not be what you need at the beach where you need your hair flaring behind.
Pixie twist
Who else knows how to spot pixie twists better than Lupita Nyongo? Unlike braids and twist outs, pixie twists require additional equipment to create, and they're time-savvy. The result is curls that are tightly twisted in the form of ringlets. However, we have to admit; pixie twists are quite difficult to pull off.
To begin with, you don't want to go with contrasting colors that would be seen as too edgy on your sleek ebony skin. The bottom line is to go for colors that don't disrupt your style and consistent with your personality.
As always, if you will be using hair pipes, try as much as possible to use extensions that are closest to your hair shade. Pixie twists aren't sophisticated, and neither are they too edgy. They're a perfect fit for casual events, and unless you've mastered the game, you don't want to turn up to a star-studded event with this hairstyle.
As much as we try to shy away from it, most people especially the opposite sex, aren't a fan of this hairstyle. It's seen as too simple and lacks any aesthetic appeal. You don't want to chase prospective suitors away.
Curly Twist Up-do
This is a quick super fun hairstyle you can rock to a get -together or night at a cinema. It comes with a curly half up and a twisted base. It's a half braid, half curls, and is perfect for ladies with naturally curly hair, especially those with curly strands.
You can do this in as little as 5 minutes since all you have to do is braid the front hair to the middle for the end to form a puff up-do. We love this look on natural hair that are dense and full at the top when pulled with a large hairband.
This could serve as a natural look for a while, especially if you want to take a break from the wig game. The unbraided part is open for regular conditioning. We know it's easy to overlook due to its simplicity. But the fact that it pulls the weight of your natural hair off your shoulder allows you to add something new and time-savvy to your hair game.
For those who wouldn't love to leave the top puffed, you can curl it with your fingers to form a twist.
Voluminous twist out
It's often difficult for black women to accept their natural inborn hair texture. However, when considering curly twists for your natural hair, it's important to consider the shape of your face as opposed to your hairstyle. Lucky enough, voluminous twists are one style that seems to go with all face types. You simply have to choose where most of the volumes will be concentrated relative to your hairline.
Voluminous twists can be rocked in different forms, as well as length. For beginners, the weight of the hair is likely to get to you if you opt for extensions. Going for shorter lengths would be less demanding and, at the same time, will require less maintenance. Mid-length twists, on the other hand, allows for a great deal of manipulation, and it's easier to keep up in terms of styling.
Overall, if you're comfortable with the volume and extra styling required, voluminous twists would work just fine for you. However, it pays to switch things up a bit. You can style into a bun or chic updos. You can also wrap the voluminous section across your hair to form a crown. The key is to find what suits your taste.
So if you're sick and tired of short hair, you can try the voluminous twist provided you can afford enough pampering time. However, this is just a short term fix and not one you need to have on for an extended period.
Shoulder-length curly twists
Perhaps you're looking for a chic way to style your unbraided African hair. Well, curly twists are one option, but not all of them are worth looking at. You have to make your choice properly and choose which one fits the event you're going for.
Let's imagine you would be going on a date and you're searching for the best hairstyle for the occasion. You don't want something that will take a lot off your pocket, and at the same time, it shouldn't be voluminous since you only want it on for a few days.
The best style that will fit this requirement would be shoulder-length twists. A little extension would take short hair to a shoulder level. You can style the front into a hang-up bun to create a fun look. However, if you want to bring your A-game on, you could throw in a few accessories such as a bead to accentuate your face.
The advantage of rocking these styles on a date is that they won't get in your face, and you won't have to spend most of your night laying your hair back.
Kinky Curly twists
Kinky twists are one of the most popular natural hairstyles available to give you the glamorous "African queen" look. Kinky twists are versatile, and you can find one that accentuates your look. You will be able to play around with its length, color as well as texture. You can keep it simple with the charcoal black if you have dark natural hair.
Charcoal black twist extensions are meant to accentuate the color of your natural hair. It enhances its natural look and introduces a little bit of darkness. Throughout your curly twist journey, you would want to try out one of these to see how they look on you.
They come in different length, and you can easily pick one that fits the occasion. If you're used to contrasting colors, charcoal black will add a new dimension to your hair game, and it won't turn out awkward. It's great for people who want to try something new without going ditching their style.
Afro Curly Twist
Afro curly twists aren't quite popular but in some ways are similar to twist out curls. The only difference is that afro curls are much longer and have narrow twists that are well defined. Creating the afro twist on your hair isn't quite simple. This is because the straps are tiny.
Going for extensions, you will have a lot of options to pick from and choose the one that's more suitable for you. Although, when making this choice, you want to consider the shape of your face and hair length.
Afro twists can be installed on the hair of varying lengths, both short and long. You're able to experiment with different options and see which one suits you. Afro twists are usually voluminous at the front, and a great chunk of it will fall in your face. However, you can style it up into convenient shapes such as a bun.
The curls this hairstyle creates makes them a perfect option for the beach as well as other headline-grabbing events. Your outfit will sure determine the color of hair you choose. You want a harmonious look rather than taking risks that would land you in the books of fashion police.
Zippy curls
Zippy curls are premade twist extensions and can be installed on several hair lengths but look their best on medium length hair. It gives the fake impression that your hair is soft and smooth. Zippy curls ooze luxury and could be one to go for during pageant shows.
The curls are available in different colors to match the natural shade and texture of your hair. However, to achieve the luxurious look you crave, you have to carry out little maintenance. Moisturising the scalp is needed to avoid itching as well as dryness.
Since the curls will be on for a few days, you also want to ensure your hair isn't extremely dry before it's done. The strands at the front of the hair are thin; hence you want to avoid pulling too hard while you carry out maintenance.
Conclusion
There are few style inspiration for the African woman when it comes to how to style her natural hair. Rocking your virgin hair seems like a taboo on big occasions. However, that only happens if you fail to invest a little time in your look.
Granted, you might not have the sleekness of wigs, but you can always find a lot of time in your hand to add more curve to its curls. Now is the time to experiment on one of the styles we've listed here and see just how much you can stand out in your natural hair without hiding it under a wig every single time. Your hair is your pride.