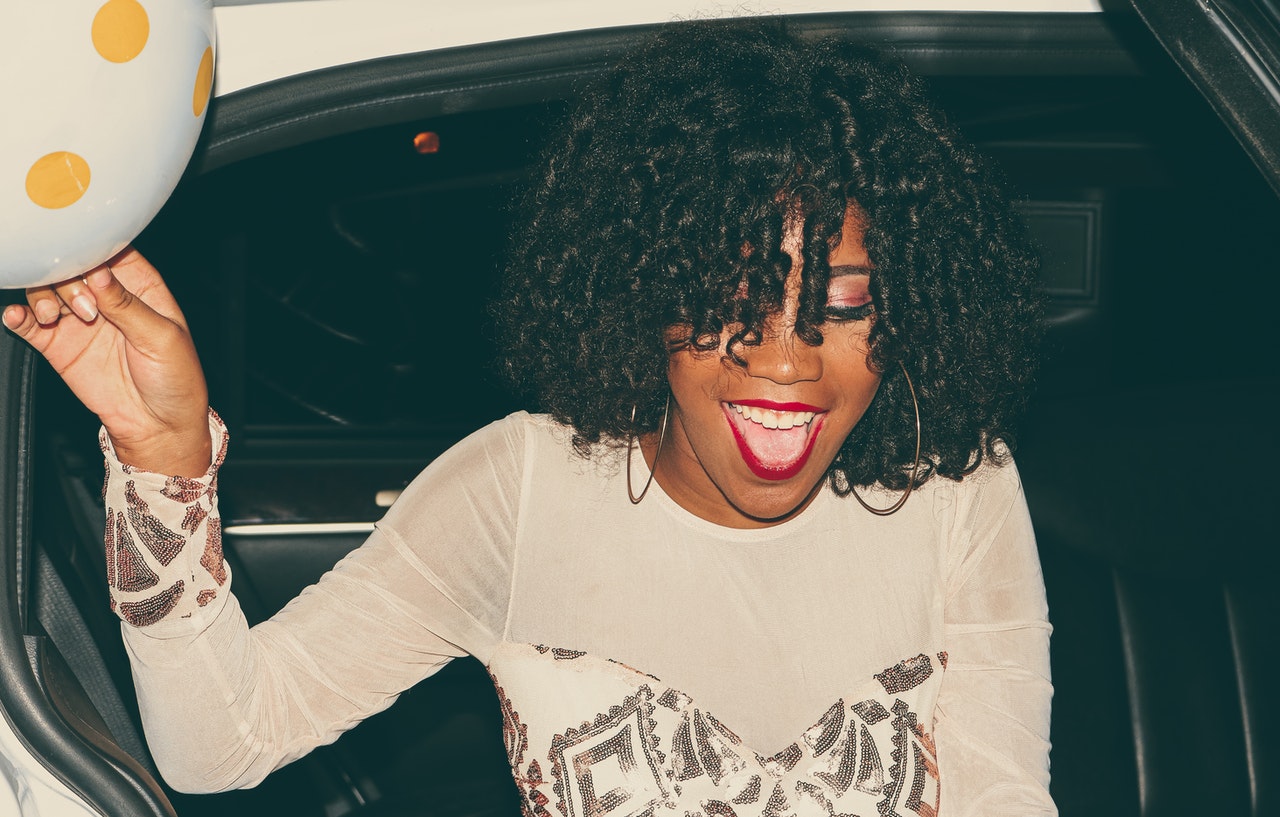 Ten Selected Twist Styles for Parties
Alright. Let's say you have a special party to attend. It's just three days away. The party is going to be the talk of the town. There will be floods of guests from all corners: royal highnesses, CEO's, elite businessmen, media personalities, and the hottest bachelors in town.
You have it all set. Your shoes, dress, jewelry, are all on flick. But one thing is missing; you haven't settled on the hair to wear. Should you wear that wig standing by the corner? No, you wear it every day. What about the Peruvian hair? Ouch, you wore it just last week, and your friend will begin to think that's the only one you have.
What about locs? Not your style. Okay. Enough. It's obvious that you've exhausted every possible alternative and want something new. Well, if that's the case, you can bank on us to provide you with 10 twist style inspiration for your next party. Whether it is a wedding event, birthday, anniversary, or movie premiere, your hair game will be on flick with one of these styles. Follow through as we get started.
Goddess twists
I'm not going to be nice; you have a special event around the corner. Star-studded and you want to play it safe? Short faux locs? Like a sister giving a sermon in church? No chance. You want to make a statement; you want to steal a lot of stares. The goddess twist is the headline grabber of all twist style. And for some reasons, goes with every outfit: short, long, ball gown, and the likes.
Of course, it would take a heck of a time. But that's no big deal. It's sure worth the pain if you don't want to be a passerby at the party of the year. Long wavy braid twist is easy to spot, but we will be fair enough to tell you to go for whichever length fits you best.
Besides, you can also rock this hair to other events after this "special" one. By our calculations, goddess twists can last for 6 months. That's a long time for you to stay on top of your hair game while stealing attention from every corner you turn to. You don't have to let them down all the time. You can always make it into an updo or a bun. The choice is yours.
A twisted Mohawk
This is another one that's classy yet edgy. It could be a signature look, and a means to flip the script. If you're not one known for going for edgy styles such as this one, few months will go ajar. It isn't conservative, and it would take a bit of confidence to kick it off.
Don't get it wrong; it won't be an escape tomboy look. For this one, no side of the hair has to be shaved. We understand that not all ladies love this and are scared to let the wrong impression fly with half-shaved hair.
This kind of Mohawk fits into both formal and casual events. The most classy Mohawk are those with an interwoven underside. You could go for a complete twisted hairdo or leave the top unbraided while it's serenaded with hair accessories such as beads. If done well, it could shave a few years off your look temporarily. Making you look as smooth as you were in your 20's.
Half Up Twisted Faux Hawk
It wasn't long ago I stumbled on a lady with the half twisted faux. It was at a wedding event, and the guys couldn't get enough of her. Well, I tried the look a couple of times over, and it caused a lot of stares as well.
Let me tell you if you're not the attention-seeking type, the attention you will get from this will tire you out. It's innovative and one for special occasions. It's not every day you rock it, but it could be your go-to style for special events as well as parties where a whole lot of important personalities are in attendance.
This isn't basic, and it would take a whole lot of time to execute. Even best, you could wear it on both your natural and relaxed hair. The most important thing is to settle for a smooth hair texture, especially with no underlying hair growth or frizzle. This could be your first less risky attempt at trying a Mohawk, and it would turn out well.
Twisted Boho Braids
This is another one that allows you to change things up. It's similar to box twists, but for a party, you want to take your time and get it done. If you're short of time, you can opt for an extension. I prefer installing extensions. They're time savvy and provide the best results.
I don't quite appreciate this on natural hairs. Unless of course, if your natural hair is relaxed and also has a silky texture with no undergrowth. I've seen a couple of ladies rock the Boho Twisted braids at a few events and they didn't look out of place with women who had expensive human hair on.
When we say Boho twists, we don't mean twisted beaded pigtails. At parties, using beads doesn't seem like a mature thing to do. Especially when you're trying to be the talk of the party. If you have to use accessories at all, it has to be braid rings or cuffs or any other thing related without looking like a kid.
Box Twists With Undercut
For most African ladies, whenever we need fresh ideas for our hair game, we always turn to social media for inspiration. Well, the first time we saw this style, it was gaining a lot of attention as well as controversy at the same time. We agree that it's edgy, but it says more about one's personality than their hair game.
Be careful; this isn't for the faint-hearted ladies. Of course, you would slay in it but be prepared to receive a few sticks as well as backlash from onlookers at the party. If you've already developed a thick skin for shades, it won't be an issue for you. You would win a lot of accolades for your "bad girl" look where everyone else is trying to be decent.
This hairstyle is perfect for individuals with short hair especially for women who are never shy of showing off their undercut. You could raise the braided part into a bun to show the undercut or bring it down to fall over your shoulders. Whichever option works best for you. This isn't another tomboy look, it's the classy woman's way of making a statement provided you can sacrifice a small portion of your hair.
This style allows you to channel your inner rockstar. This makes it great for clubbing as well as star-filled parties where trending stars will be present. However, as much as this isn't long term, you should know that the effects will stay on for a while. Before pulling a stunt such as this one, consider your working schedule. Can you rock this freely to official events without causing a few eye stare from your boss?
Senegalese twists
Senegalese twists or rope twists as they're popularly called are a classy style for afro-textured hair. It's mostly used as a protective styling option that stimulates hair growth and at the same time minimizes damages for the period you have it on.
The styling uses a wrapping action around the root of your natural hair. You will derive much more benefit if you use your natural hair than using an extension. On your natural hair, it prevents the twist from unraveling on its own to save you from embarrassment at a party.
If you must use extensions, you ought to use Marley hair as the extension for naturals who want to extend its length. There are two options for you when it comes to extensions: the Kanekalon and the Toyokalon. The Kanekalon is the most available option out there and silky at braiding. It blends with your natural hair effortlessly, and it allows for the hair to be held from the root.
Kinky Twists
Kinky twists give you a lot of variations to choose from. You can keep it long, or short, and even wavy. We understand that the styles mentioned above could be a bit edgy for some people, especially those who want to walk through the party like everyone else without getting noticed.
If that's how you want it, you have nothing to worry about. Kinky twists are all for you. If you love to keep it short, there are several style inspirations with twists that don't go below the shoulders. These styles are much in volume and could put on a lot of weight.
Medium-sized twists, on the other hand, provide a little extra to your look and expand beyond the shoulders. It's neither too edgy nor bland. It strikes a balance. Long kinky twists are for those who want to make a statement at a party, and it gets bold when you play around with colors. We love gold, ombre twists that show your intricate nature.
Kinky twists can be worn for an extended period. Usually, 4 months without the twists unraveling. It doesn't require a lot of maintenance, and you can style into different forms. Updo, buns, or pigtails. The choice is yours to make, depending on the occasion.
Havana twists
Havana twist is another classy chic style that made it into our list. We stumbled on this one of our numerous searches over the internet, and we couldn't help but fall in love. Make no mistake; this offers more than protection for your hair. It can turn a nerd into a fashionista within a few hours.
Havana braids are similar to Marley braids in terms of looks. The only difference is that while Marley twists are made with Marley's hair, Havana braids are made with Havana hair. Each hair type has a predefined texture that brings the best out of the luxurious style.
Before installing this hair type, you need to carry out a little prep work. Ensure your hair is in the right condition. By this, we mean it should be frizzle free even if it has an afro-hair texture. Once installed, you can have it on for months, and it requires little or no maintenance as well.
It can be worn in different places as well as events: anniversaries, birthday parties as well as clubhouses. The installation is a stroll in the park, and if you love the look, it can be your new best friend for special events.
Wavy twists
This is one style on the bulky side. It's heavy and pulls on a lot of weight. This works well for individuals with curls, and you only need to get a good stylist to make those wavy twists on your hair. You don't need to install an extension. You can style your existing synthetic hair this way. After all, it needs extra length to look as good as they appeared on those Instagram celebrities.
A style like this one is befitting for the red carpet and if you're attending a wedding party, be careful not to steal the spotlight from the bride. It's that pretty. If you have curly hair, creating wavy twists in a way, tend to protect your hair. It minimizes frizz as you can cut through incisions as you walk around the hair.
This style is a game-changer and one you should keep close to your chest. It could be your secret magic wand when you run out of ideas, and it should be worn only on special occasions. With the right choice of cloth and accessories, you will be blazing hot.
Tiny Shoulder length twists
This is the opposite of big braids who happen to be bulky. Tiny twists are less bulky, and they're easy to maneuver. The only disadvantage is that if They're not held in place, they might be flying around at a party which could create a mess.
Shoulder-length twists are versatile and look great on different hair textures. If you're not confident about rocking your natural hair at a party, you can accentuate with hair extensions to create the kind of length you want. The smoother the hair, the better the twists appear which in the long run affects the style's longevity.
Twists can be worn all year round and to every event. They don't look out of place in your workplace, and you won't become a walkover at parties either. For convenience, you want to keep the hair tucked away from your face when you show your magic on the dance floor.
Conclusion
While twists bring a new change to your look, the styling looks almost flawless on silky hair especially human hair extensions. Some people complained that the twist was not noticed on their natural hair, to avoid this situation, ensure your hair is relaxed.
Also, one issue you will have with twists especially if they're tiny is their weight. They tend to become bulky especially if they run below your shoulder. Of course, time is another factor. Hence, if you plan to rock twists to any party, ensure your hair is made two days before the event. This way, there's less pressure on your scalp and it's better able to complement your face.
What we love about twists is that they're an all-rounder. You can rock them anywhere and still manage to grab attention without seeking it.