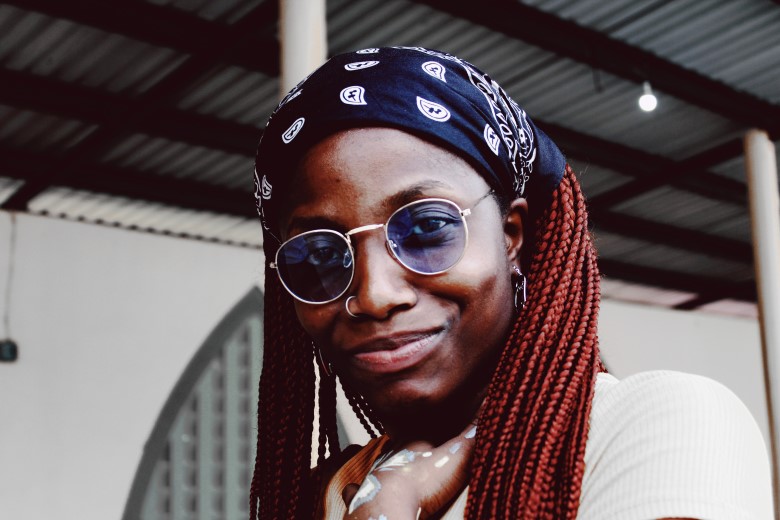 Stylish Braids and Beads Hairstyles in Lagos
Accessories complement our appearance. So, whether it's our dressing, or even our car, adding accessories improves the total result. It's the same with hair accessories. They bring a whole new vibe to your style. Accessories can turn an ordinary hairstyle into a spectacular one. And beads top the list. The combination of braids and beads is what you need to stand you out as that classy and fashionable Lagos lady that you are! Here are 3 braids and beads hairstyles that would help you claim your space as a bonafide Lagos babe. Don't say we didn't do anything for you!
Braids in Gold Cords
Source: Pinterest
To qualify as a top notch Lagos lady, you need to stand out in a classy way. You can't afford to wear plain old braids like your grandmother did. Nah! You need to accessorize and step up your braids game. Turning heads is guaranteed in this edgy braids hairstyle and gold cords. You can put the cords in some or all of the braids, your choice! You can also decide to add other hair frills like rings or cowries. It's all up to you. One thing is certain though, whether for party or business, this look is bound to get you admiring glances. Not one, not two, but many. You know, those glances that let you know your hair investment paid off! So, next time you plan to step out in style, make sure you have your braids and gold cords in place. Add to it, some swag, and you're ready to stop traffic.
Colorful Braids and Nude Beads
Source: Pinterest
What's the world without some color? We checked the dictionary and some antonyms of colorful are: dull, lifeless, flavorless, faded, wow! Those are definitely not words you'd like to be used to describe you, right? We thought so! That's why we're recommending this gorgeous braids hairstyle for you. While color braids look good on their own, they attain another level of chic with beads. Make those beads nude because you don't want the colors clashing. Trust us, these colorful braids and nude beads are a showstopper any day. It gives you that sexy feminine look you see only in Lagos. You can't wear this hair and not have a spring in your steps. You have that burst of confidence that you're looking your best. Not only that, it comes with a good feeling that you're adding more color to the world! Time to get off the plain old braids train and pop some color and beads. What do you say?
Fulani Braids With Neon Green Beads
Source: Pinterest
See, everybody looks good. So, if your aim is to look good, you've not started. Your aim should be to look fabulous, nothing less would cut it. So, yes, you'll look good in braids but the only way you're looking fabulous is by touching it up with some wild accessories. Wild, yes! There are accessories and there is the accessory. Accessories are for everyone, but the accessory is for you alone. Why? Because when you wear it, you endow it with your personality. It carries a little of your wildness. You don't just wear the accessory, it also wears you. That's one wild infusion, we know. But it's an amazing one for whoever can pull it off. And this is what happens when you put some neon green beads in your braids. Not only do you look fabulous, you also radiate positive energy that rubs off on anyone you meet. You become the bubbly Lagos girl everyone wants to meet. Hello, Pretty!
You may not know the history of beads and braids, but you can create some history with your style and creativity. Creativity is refusing to do plain like everyone else. Creativity is merging different amazing styles to achieve a super-amazing look. It's thinking outside the box and looking for exciting ways to accessorize so you can create that fusion that stands you out in the Lagos crowd. And beads and braids is one helluva fusion. With it, you stand heads and shoulders above those with plain braids. So, tell us, which braids and beads hairstyle are you trying out next?