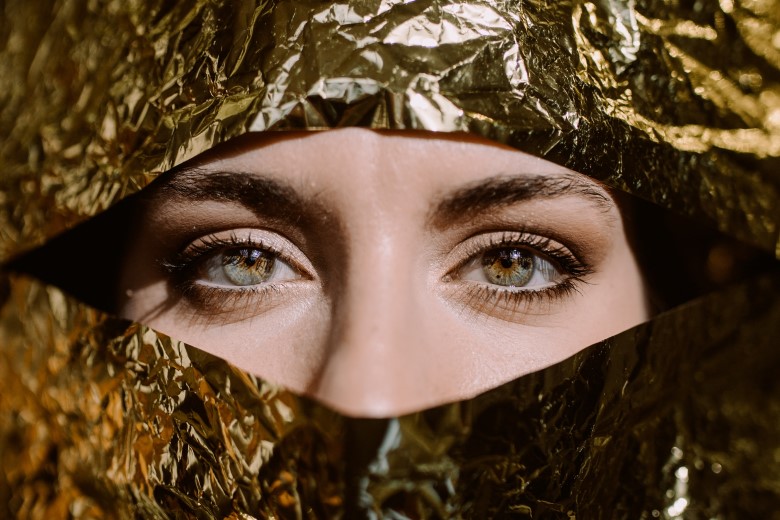 Mask Friendly Eye Makeup - 3 Simple Tips for Nigerian Women
It's no secret! 2020 changed fashion trends all over the world. Nigerian women will agree when we say eye makeup is now the most important makeup to wear. Given that your face mask covers half of your face, your eyes need to speak for the rest of your face. Moreover, the kind of colours on the eyes say a lot about a woman's style. Therefore, listed below are 3 eye makeup tips Nigerian women need to stay sassy, trendy, and chic.
1. Glitz O'clock
Source: Pinterest
For Nigerian women with a flair for glitters, it's Glitz O'clock for you. This look is mostly for red carpets and dinner parties. For your pictures to reward you with stunning beauty, apply foundation, draw your eyebrows, use warm eyeshadow colours, and apply eyelashes extensions.
2. Lustrous Nude floral
Source: Pinterest
Many Nigerian women have a liking for flowery fabric. If you are guilty of this and love to wear floral print masks mostly, nude eye makeup is your saving grace. Add highlighters to your brow bones and corners of your eyes to intensify your charm.
3. Simple Nude Eye Makeup with Ankara Head Wrap
Source: Pinterest
This is not an exaggeration: all Nigerian women have varieties of Ankara in their wardrobes. Ankara highlights flawless African beauty. For everyday Ankara-mask-eye-makeup look, keep it simple. Draw your eyebrows, use some mascara, line your under-eye, and tie a matching Ankara head-wrap.