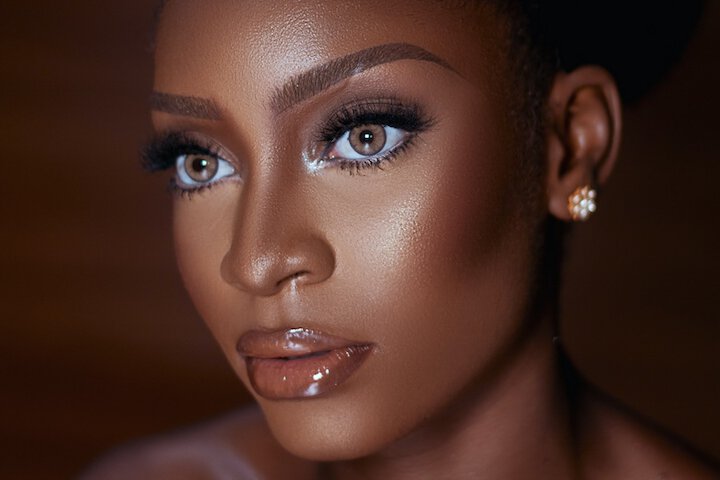 Latest Bridal Makeup Trends on Dark Skin for a Glamorous Wedding
Your wedding is one of the most important events of your life and you only get one chance to do it right. Getting a makeup palette that works well with your African skin can be tricky, especially since the range of colours that complement your skin tone is limited. This could easily ruin your big day. However, knowing the latest makeup trends will give you an added advantage to select the most suitable palette and slay on your big day.
Add a little shimmer and shine by applying colour on your eyes and lips for an elegant look
Source: Pinterest
Colour is definitely one of the biggest bridal makeup trends this year. While last year most brides went for nude invisible tones, this year's brides are going all out with colour. Add a little shimmer and shine using coloured eyeliner, eyeshadow and lip gloss. The best colour trends for brides are pale pinks, blues and gold hues for extra elegance.
For a glowing look on your big day, opt for dewy makeup using liquid foundations and highlighters
Source: Pinterest
Another bridal trend you can't afford to miss is moist, dewy skin. This is the opposite of the matte look which made for a dull bride. With dewy skin, your overall look is brighter and glowing. To achieve this look, opt for foundation mixed with liquid highlighters. You can also do a light spritz with liquid moisturizer before stepping out.
Whether it's your white wedding or traditional wedding, a bold lip colour will complement your look
Source: Pinterest

To match the big wedding occasion, wear a deep bold lipstick with suave colours like red, dark pink, purple or maroon. Dark lip colours put a punch on your overall makeup look and add warmth to your face. They also make your smile more strikingly beautiful against the white backdrop of your teeth.