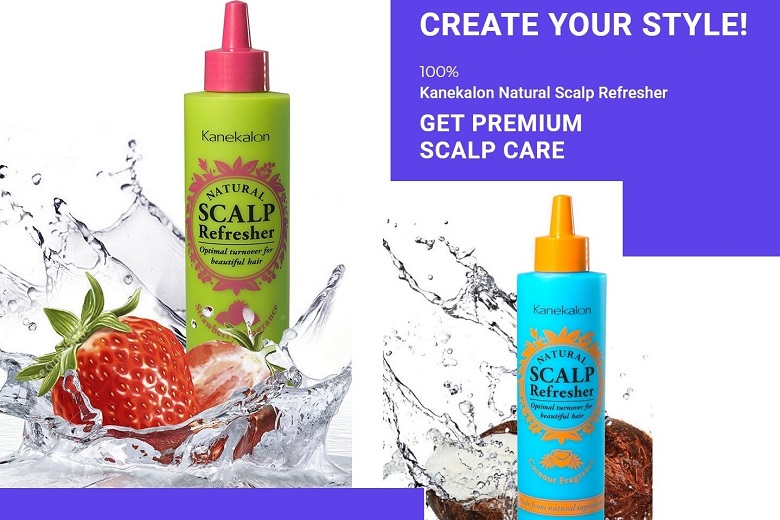 Introducing the Natural Scalp Refresher: Optimal turnover for beautiful hair
The Natural Scalp Refresher by Kanekalon is a premium dry shampoo that helps you to remove grease, dirt and odour from your scalp without using any water, leaving your hair feeling clean and refreshed every day.
The Natural Scalp Refresher is specially formulated for type 4 kinky African hair, which is curly, textured and extremely fragile. With dry and coarse hair in mind, the intense formula deeply penetrates the scalp to remove bacteria and oil build-up which often causes itchiness and sensitivity.
The Natural Scalp Refresher is made with natural ingredients, which keep the scalp clean and renewed when wearing protective hairstyles such as box braids, twists and locks, or even daily hairstyles that do not need constant washing with water.
Do you always scratch or tap your head because your scalp is itchy? With the Natural Scalp Refresher, you can go about your daily activities with confidence as it eliminates sweat, odour, dust, bacteria and product build-up, a guarantee that your scalp will no longer be itchy and sensitive.
After intensive training and workouts, cleaning with the Natural Scalp Refresher removes all the sweat and leaves your hair smelling fresh. After swimming in chlorinated water which dries out your scalp and makes hair brittle, the Natural Scalp Refresher will clean out excess residues and moisturize your scalp.
And for outdoor activities that expose your beautiful hair to harsh sun, it will clean out dust and residue, ensuring that your scalp is renewed and has an optimal turnover for beautiful and healthy hair. The scalp refresher's non-sticky formula is light and comfortable, so it does not stain your clothes and it does not create heavy build-up that causes dandruff.
How to use NSR?
With three easy steps, the Natural Scalp Refresher restores your scalp leaving it clean, nourished and protected.
Step 1: Simply apply the Natural Scalp Refresher directly on your scalp using the easy application nozzle. Make sure to cover as much scalp area as possible.
Step 2: Massage your scalp gently to ensure the activated enzymes do their cleaning work to remove bacteria and build-up.
Step 3: Wipe off the excess product from your scalp using a dry towel. No need to rinse with water!
Using the Natural Scalp Refresher daily ensures that your scalp is able to breathe and regenerate cells faster, leading to beautiful, healthy hair in just two weeks. What's more – the Natural Scalp Refresher comes in two amazing fragrances – Strawberry fragrance and Coconut fragrance, so you can choose your favourite scent.