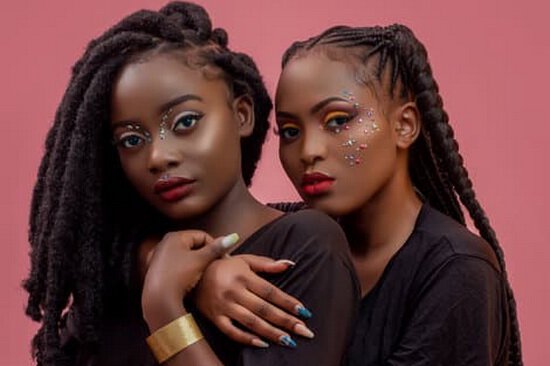 How To Do Nigerian Makeup Effortlessly
With a right technique and a correct approach, you can't go wrong. Applying a Nigerian makeup can be downright fun and easy once you really start to get the hang of it. If flawless or sultry is all you've been searching for then you're in a right place, and at the right time. The techniques that will be shared here today are tailored to give you a beautiful endlook without having to break your bank.
Nigerian Bridal Makeup
Source: Pinterest
She is a perfect example of what a Nigerian bride looks like during a traditional wedding. Her makeup blends effortlessly with her dress thereby giving her the charming look she deserves.
Black Skin Girl
Source: Pinterest
A blend of English dress and a native Nigerian dress. The makeup there is a shining example of what a Nigerian makeup looks like on a black skin body.
The To-do:
Step 1: Prepare your face
It goes without saying. A good makeup begins with how well you take good care of your face on a daily basis. No matter what constituents you employed, a makeup never looks good on a dry and flaky skin. Thus, never forget to moisturize often.
Step 2: Apply primer
Primers are a big deal but oftentimes many people fail to realize that. It not only helps to narrow the pores on your face and help fill the gap, but it also can make your makeup stay together for much longer than usual.
Step 3: Apply Concealer
Depending on your skin type – whether it's an oily one or a dry one — a concealer can help. It can help you correct any form of unevenness in your skin tone. Note however, it's often important to make use of concealers that are in-line with your skin type.
Step 4: Apply foundation and contouring
Foundations, I believe, are not new to us. We have them in different shades. Find the one that closely matches your skin type and go for it. Then, grab your highlight and color palette and carve out your new face.
Use darker shades on your forehead (right under your hair), under the cheekbones, on either side of the work nose bridge, and under your jaws. For anything contrary, use lighter shades.
Step 5: Apply eye makeup
Eye makeup is also important. It very much informs your total outlook. Thus, you can't get it wrong.
Step 6: Do your lips
If natural look is all you're aiming for, then there is really no need. But if you're aiming for something spicier, then you need to apply lipstick.