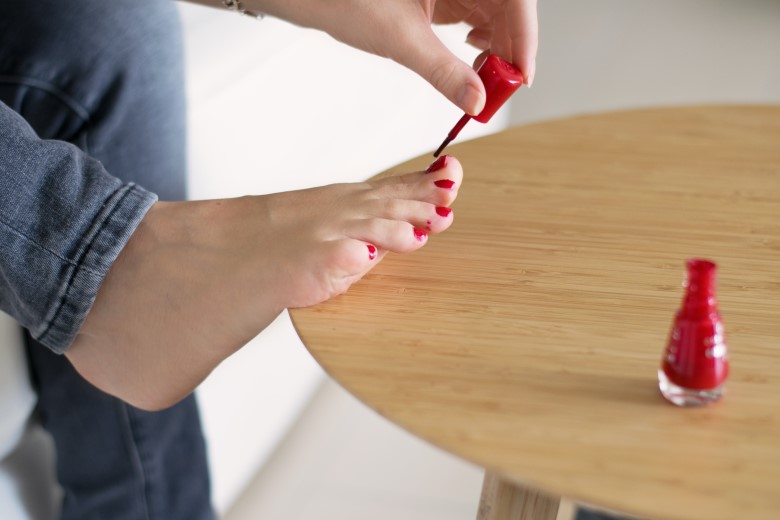 Chic and Elegant Nail Polish for Dark Skin Toes Every Queen in Ghana is Talking About
Here's a question: Do you love your toes? For many women in Ghana, toes are a no-go zone because they are difficult to shape and groom. In fact, many ladies prefer to wear closed shoes instead of sandals in order to hide their toes. But this should not worry you anymore! Below are gorgeous designs of nail polish for dark skin toes, which are guaranteed to leave your toes hot and radiant after every pedicure.
Glitter, sparkle and shine
Source: Pinterest
When it comes to nail polish for dark skin toes, everything that glitters is gold. If you love to wear clear nail polish, pick one with a bit of glitter for that extra shimmer and shine. But if you love bold colors, apply your nail polish and finish off using a topcoat with some glitter to make the color pop. To touch up your pedicure, always use a glossy topcoat to ensure that the nail polish looks fresh all the time. Remember, the more the glitter, the brighter the shimmer.
Dazzle in white
Source: Pinterest
White nail polish made a big hit as a beautiful upgrade of the French manicure. Well guess what; white nail polish is still en vogue, and it looks simply gorgeous on dark skin toes. There are about a dozen shades of white nail polish to choose from including snow white, creamy and even pearlescent white. For a bright polished finish, apply a glossy topcoat to complete your pedicure. However, if you want a softer and more lustrous finish, use a topcoat with soft pastels of pink, blue or lilac. This leaves a subtle and beautiful effect against the backdrop of dark skin toes.
Glow up your favorite nail polish color
Source: Pinterest
Whether it's red, blue, pink or green, you can never argue with the attention a bright pop of color brings to your feet. And when it comes to nail polish for dark skin toes, the brighter the color the better the overall look. Select the neon version of your nail polish so that it can create a brighter effect. If you want some shimmer but you are not a fan of glitter, pick a metallic shade of your favorite nail polish color. The metallic shimmer leaves a gorgeous sparkling effect on dark skin toes.
After reading our tips, we know you're excited to step out and show off your gorgeous pedicure. But before you go, remember to stay hydrated because water keeps your nails healthy and strong. When chilling at home, slip on some soft socks to protect your nails from wear and tear. Also, touch up your nail polish with one thin layer of topcoat every few days to keep your pedicure looking brand new.