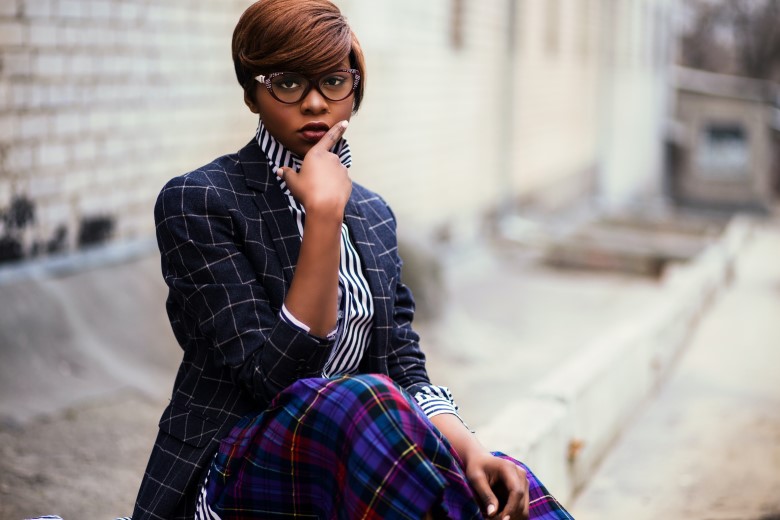 Buying your first wig? 5 Important tips for beginners
Wigs have so many advantages that can instantly elevate your hair game from ordinary to superb. However, buying your first wig can be a stressful and overwhelming task, especially if you have never bought one before. For starters, there are literally hundreds of types of wigs out there, each with a different name and different characteristics. Not only that, wig terminology is outright confusing and you could easily give up on getting a wig because of this. That's why we have narrowed down the search for you. Here are five crucial tips to start you off on your wig journey.
Synthetic wig or human hair wig?
Looking gorgeous in a synthetic Brazilian body wave lace-front wig.
Before you go wig-shopping, note that there are two main categories of wigs: human hair and synthetic. Human hair wigs are considered to be more superior because they are made from actual human hair, thus are more natural. They can also withstand heat treatment like natural hair, although this makes them also very costly. On the other hand, synthetic wigs are manufactured from artificial ingredients to imitate human hair. These types of wigs are easy to find in stores and are more affordable than human hair wigs.
That said, synthetic wigs have evolved so much over the years using new technology that makes them very similar to human hair wigs. You can experiment with different styles and cuts of synthetic wigs before finally settling on a human hair version of the same. When buying a synthetic wig, the key factor to consider is that it has a natural lustre and that the texture is smooth, soft to the touch and easy to style.
Buy a wig that is Flame Retardant and Heat Resistant
Black full-lace wig with deep curls.
A very important factor to consider when buying your first wig is to ensure that it is flame retardant and heat resistant. Many companies do not disclose it, but one of these dangers is that some non-flame-retardant synthetic fibers are highly flammable and can catch fire very quickly. When they do so, the resin melts and drips in a liquid form and this high-temperature melted substance can cause serious burns if it gets into contact with the skin, causing permanent scarring. There are many reports and tragic horror stories of women who were seriously injured with hot hair during styling.
Flame retardant fibers such as Futura™ have special features to ensure your fire safety. Many of them are self-extinguishing and they do not melt and/or drip. As they are self-extinguishing, they stop burning once they are removed from a source of fire. This advanced technology means that you can comfortably style your wig using heat without worrying about fire accidents. The biggest advantage is that the flame-retardance does not decrease with shampooing.
Another factor to consider is to select a wig which is heat resistant. If not, you cannot use heat styling tools like blow-driers, curling irons, or flat irons because the wig can get damaged and spoil the whole style.
Heat-resistant wigs are made from special high-heat fibers that can tolerate high temperatures without being damaged. The texture of heat-resistant wigs is typically smooth and very soft, and you can comfortably use heat styling tools. Futura™ fibers can withstand a temperature of up to 180°C or less, depending on the materials mixed. The exact temperature range is usually printed on the pack, so make sure to read the instruction manual before styling.
Choose between a U-Part wig and a Lace Front wig