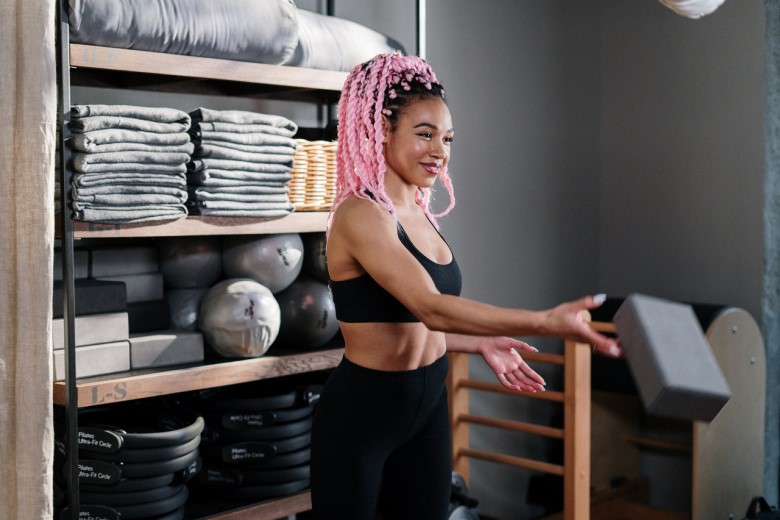 Best 5 Stunning Coloured Braids for Dark Skin Tone
One thing to love about braids is how gorgeous they look on African women. Braids have been in the culture since time immemorial, but what makes them one of the best protective styles is; you can wear them in different colours. Black is a safe braids colour for dark-skinned. However, don't be insecure about trying new colours. In fact, some colours pop better on the dark skin tone. If you are about to make new braids and you plan to use the usual black attachment again, stop! Take a breath of fresh air and try out these recommended coloured braids for the dark skin tone.
Deep Burgundy
While light-skinned women may have red in their favour, burgundy is best suited for the dark skin tone. Besides, if you are a little conservative but would want to start with something different for the first time, burgundy attachment is exactly what you need. Burgundy attachments make one of the best-coloured braids for dark skin tone.
It not only pops perfectly on dark-skinned women but also complements the richness of your melanin skin. Moreover, you can wear this colour to any event. They are perfect for long box braids, short box braids, knotless braids, faux locs, and even weaves. If you are trying to achieve a bold look, wear bold lipsticks like deep wine or deep brown while on this coloured braids. For long burgundy braids, either pack your hair in a bun or style them wearing hoops earrings. But if you are the type that likes to show off the length of your hair, let them down so they can complement your beautiful dark skin.
Ombre purple
Ombre purple is one of the best coloured braids for dark skin tone. Some women like bold looks, while others love mild and cute looks. If you are one of the latter, these ombre purple braids are for you. Apart from being coloured braids suitable for the dark skin tone, they help to create a statement that you are chic and trendy. Also, if you have a party and you need to pick a colour for your braids, these are exactly what you need. They are perfect for casual parties to 'glow in the dark parties' and would have people swooning over you.
Moreover, you can wear them as long box braids, short bob, or short straight braids. If you make them as long braids, either style them in an up-do to let your forehead pop in an amazing glow. Before heading out in the sun, use your sunshades, slay them with hoops earrings, and ensure to lay your edges.
Milky white
Many dark-skinned women like to play safe with colours and will prefer to stay away from colours like white. It's not their fault. It's better to be safe than to wear it wrongly, right? But guess what? White attachment makes attractive coloured braids for dark-skinned women. Nigerian women who are conservative may stay away from this colour. But if you are the type that loves attention, you need to try them. They are great because they highlight the rich and deep dark melanin skin.
What is important is to make them with a talented hairstylist that can neatly braid your hair. Before you know it, you'll have people swooning over you. This shade is perfect for long box braids, long regular box braids, and faux locs. White attachment is rare, but luckily, Xpression attachment makes them in colour 60 for Nigerian women. However, take them off as soon as they get rough or old.
Gold + Black
Although unicoloured braids are beautiful, a mixture of two shades is an innovative way to step up your braiding game. And for dark-skinned Nigerian women, a mix of gold and black attachments perfectly complements their skin. If you don't like to use colours that are too bright or too dull, you will love this colour mix. While mixing these two shades, brush more gold attachment with less black attachments. That way, the gold colour still dazzles, and the braids are way more attractive.
You can braid this colour mix as long or short braids. However, ensure the hairstylist blends the two colours properly so they can transition perfectly while braiding your hair. If you have naturally black hair, it will be easy for your natural hair to blend with the attachment. Also, women who dyed their hair gold can try this mix because the roots will naturally blend with the braids.
Turquoise Blue
Last on our list of 'stunning coloured braids for dark skin tone' is turquoise braids. You may not see a lot of dark-skinned women in this colour, but when you do, you will agree that they are stunning. Although they are not trendy or common in Nigeria, they are very stylish, daring, and gorgeous. So, if you are amongst the bold and confident classy women that love to create their own fashion statements, go for turquoise braids.
While wearing this colour, it is important to be creative with the styling. Wear in different styles to show off how amazing they are. So, install them as triangle-cut braids or long but full box braids. You can also pack them as a bun or ponytail. Get more creative by making two buns. To achieve that, part the hair into two, wrap the braids close to your forehead as two separate buns while allowing the braids at the back to fall. Add hair accessories like beads or hair clips to adorn them. Lastly, rock your colourful protective style with nude or bold makeup depending on your personal preference.
Conclusion
As a dark-skinned woman, you shouldn't be restricted to using just one colour all the time. Explore new colours that complement your skin whenever you want to install braids as a protective style. Therefore, install any of our best five coloured braids for your dark skin to pop like never before.
Nevertheless, if you are conservative or skeptical about using these colours, start by mixing the unicoloured attachment with the black attachment. When you get more comfortable wearing the colour mix, exclude the black attachment and rock your coloured braids live a diva. Most importantly, always make your protective style with experienced hairstylists only so your braids can be neatly installed.