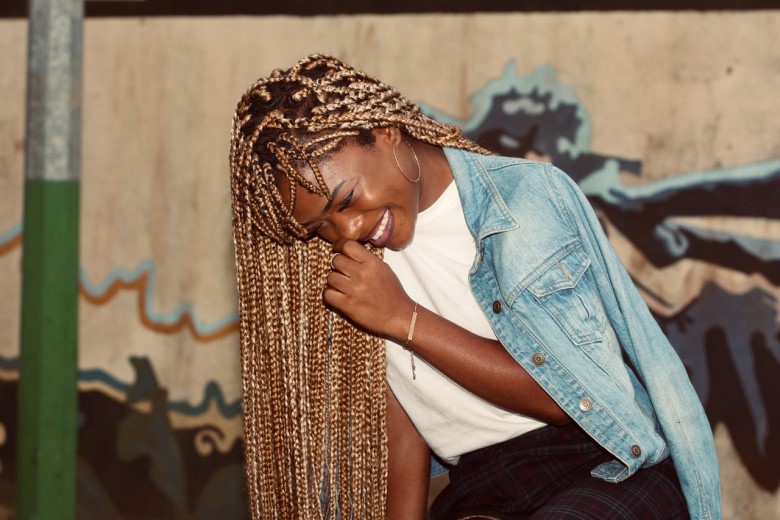 Best 5 Long Braided Hairstyles You Should Try In The Holidays
Beautiful and healthy-looking hair is a part of a woman's identity. It is not surprising, therefore, that most people want to keep their hairstyles unique. Usually, people choose hairstyles based on their preferences or a desire to stay trendy. Among the numerous available options, long braids should be considered by every lover of beautiful hairstyles.
Long braids have always been trendy, and they come in a variety of styles. Moreover, because of their length, you can add any touches you like and own them. Colourful long braided hairstyles are exactly what you need to wear in celebration of the coming holidays.
Here are some braided hairstyles that are long and beautiful to wear for Christmas or the New year:
Rainbow-streak Goddess braids
Rainbow streak braids are modest yet classy braids. They bring a twist to the conventional goddess braids with single colours. How else can you spice up your womanly allure than with a mature tint of colours? Characteristically, goddess braids are long and flowing. The idea is to have your hair wrapped around you in a covertly seductive manner. You can choose to mix in any colours of your choice with your goddess braids. This version of braided hairstyle is long. However, it is unique and speaks volumes.
It is not loud or overly colourful in a manner that makes you stand out like a sore thumb. It will still get you your deserved attention. They are a great choice for the holidays if you like to grab the attention of onlookers effortlessly. The trick is to have only a few braids in your hair accented with colours. You can choose from any range of colours between red, orange, yellow, green and blue.
Single-tone Braids
Contrary to its name, single tone braids have two colours. They are the colour of your natural hair and the color of your extension. It is called single-tone because your hair is braided in a single colour. You can also braid your natural hair, in which case there will be one colour.
You would have your natural hair colour at the roots, and the extension in the body. It would just be regular braids if you used your natural hair colour or the typical black and brown. Colours like blue, purple or green or, even hot pink are beautiful, bright options. This braided hairstyle is long and suits every occasion including Christmas or New year party. Single-tone braids are just as versatile as regular long braids. You can style them in up or low buns or even messy buns. You can also style them in ponytails depending on the look you want.
Hot triangle Cut Braids
The colour 'red' always makes a statement, whether in lipstick or clothing. Braids are no exception. Hot triangle cut braids, in particular, are an exceptional look. This style combines beautifully cut knotless braids with an ombre effect. Knotless braided hairstlyes are usually long. However, some also come in short lengths. They are known for being less heavy than knotted braids. They also lay quite nicely when wrapped up in a bun.
In this case, the triangle cut of the braids gives it a more definitive touch. The red colour is everything. The combination of black and red extensions completes the magic. This is a look that will stand out and add some hot spice to your looks. It is definitely a must-try for every braid lover.
It can be dressed down in a low ponytail or let down for a casual appearance. You should keep in mind that this style will draw some attention. Although, you could wear them during the holidays, they may not be well suited to official appearances.
Royal Mohawk
Yes! You guessed right. This royal mohawk is king in a class of its own. This version of braided hairstyle is long and if you are not open to packing your hair up, it may not be for you. Mohawks are usually styled as haircuts. The inclusion of long braids goes to show, once more, how versatile braids are. Usually, the left and right sides of the head are trimmed or shaven while a ridge of hair is left in the middle. The unshaven hair runs from the forehead to the back.
In this case, the hair left in the middle is made into braids with purple extensions. This is a really cool way to switch up a regular Mohawk or take a different turn with your braids. You can pull this up in a bun or have them twisted into one big braid neatly tucked in. Whichever style you choose, the bare sides of your head will focus all attention on the crown at the centre.
Lemon Beaded Braids
Beaded braids have a playful vibe. They are particularly great for the holidays as well as any other time of year. This braided hairstyle is long and will stand out anywhere because lemon is an unusual hair colour. If you are looking for something unusual, then it does not get better than this. Lemon braids are an attention-getter as well as a good signature look. They can be styled in a high ponytail or a low ponytail or as buns.
The beads give this hairstyle a beach vacation vibe. You can put in as many as you would like along with cowrie or seashell accessories. You can also have them taken out if you want to look less playful. You should bear in mind that these will be heavy and not easily put away. It's a style that you can rock for a short time if you cannot handle heavy hair. If you can, lemon is the new black.
Conclusion
There is no rule on how to recreate these suggestions. You can switch the colours between the styles or tone down the intensity with deeper colours. You can also restyle the braids to match your outfits or your mood. The length of your braided hairstyle should depend on how long you like them. Bra length is however the recommended minimum.
All that matters is that the long braided hairstyle you choose suits your taste and preference. So, play with colours, do something different and be happy with your hair. Whatever you do, don't stick to the same old style. Every African woman should try out one of these long braided hairstyles this holiday.