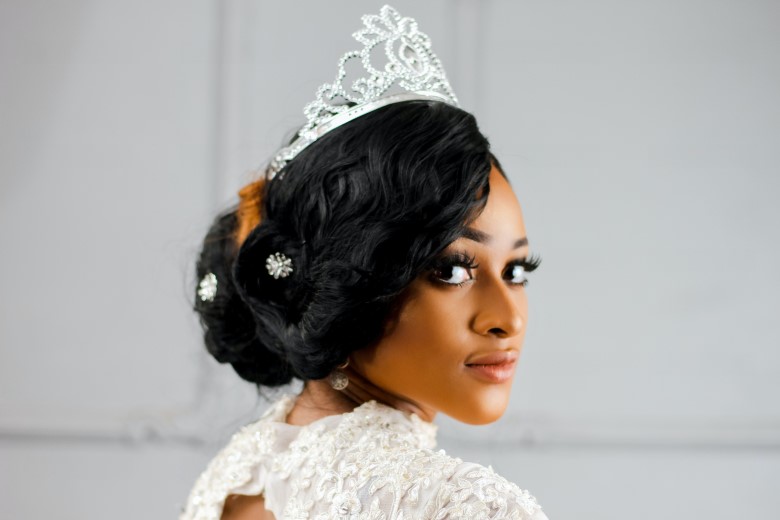 Best 10 Popular Locs Hairstyles Designs for the Bride
Locks have become a popular and much loved hairstyle for African women, especially since they are versatile and easy to maintain. If your wedding is coming up and as a bride, you're wondering if you can wear your dreadlocks on the big day, the answer is yes! There are many beautiful and stunning designs you can wear to make your locks look elegant and classy for your wedding day. Here is a compilation of the best 10 popular locks designs for your bridal event that will leave you glowing and turning heads on your special day.


1. The royal high bun
Source: Pinterest
In this elegant style, locks have been twisted into a high bun and accessorized with a tiara.
If your locks are fairly long and you want to achieve this royal look, you can twist them up and tie them into a high bun. Secure the locks with pins and cap it up with a tiara for extra oomph.
2. Baby locks updo with a side sweep
Source: Pinterest
This cute updo with a side sweep is the perfect style for baby locks.
If you have just started your dreadlock journey, your locks are probably still short and tricky to style. When untied, baby locks tend to stick out randomly on your head. To make them look stylish for your bridal event, tie them in a simple updo using pins to secure them in place. Then side-sweep a few locks at the front to add a bit of sass to your style.
3. French braid updo with a side fringe
Source: Pinterest
This elegant updo has a French braid weaved into a side fringe and accessorized with a floral clip.
We all love French braids because they make an attractive fashion statement – cute yet classy. For your bridal event, you can weave up your locks into French braids. Pin up the back braids into a bun then hold down the rest into a front or side fringe. Notice that the French braid on the front is woven with four flat strands to add volume. You can use a three-strand braid to make it trimmer or five-strand braid to blow it up.
4. The straight side sweep
Source: Pinterest
Sweep up your locks on one side and let them fall over your shoulder.
The straight side-sweep is one of the best popular hairstyles for bridal events because of its versatility. All you have to do is flat-twist your locks in one direction and let them loose halfway on your head. This style can be worn for the wedding ceremony, for the after-party and for the honeymoon. The style is elegant yet very flexible, meaning that you won't have to take a break to change into a new style for your after-party. This just gives you more time to enjoy your wedding!
5. Curl up your locks
Source: Pinterest
Curly locks are fun and girly, whether tied up or let down.
Curls are among a girl's best friends because they add sass to straight, boring hair. You can twist your locks into big, wavy curls or smaller tighter curls. For your bridal event, you can wear your curly locks down or tie them up in a ponytail. You could also roll them up in a neat bun, leaving a front fringe or a side fringe, pulling attention to your face.
6. Basket weave loc petal bun
Source: Pinterest
These amazing coloured locks have been weaved into a basket design and finished with loc petals at the crown.
For long locks which can sometimes be difficult to style, you can weave them into a basket design and tie them up in a loc-petal bun. Small sized petals always look great because they pop up, giving the illusion of a flower in full bloom.
7. French roll lock up
Source: Pinterest
These gorgeous ombre locks have been pinned into an elegant French roll.
We love hairstyles that are all French because they are simple, yet oh so elegant! For this updo, the ombre locks were swept up into a chic French roll ending up on the side of her forehead. A wedding veil will sit so elegantly on this updo and the best part is it can be easily unpinned in time for the after-party.
8. Mushroom lock bun with a side fringe
Source: Pinterest
Buns are flattering for bridal styles because they focus all the attention to the bride's face.
Buns are easy and versatile for bridal events because they can be designed to draw attention to a specific area of the face, or to hide flaws. In this amazing updo, the locks are tied up in a mushroom bun with a fringe falling off the side of her face. You can play around with the bun to make different shapes and designs such as heart-shaped or circular buns.
9. Curled up spiral locks with a basket weave design
Source: Pinterest
The bride is wearing long curled up spiral locks with a front basket weave design.
If you love to wear your locks down on your wedding day, but are afraid that they might look untidy or ragged, this style is for you. Curl up your locks into beautiful coils or waves, then weave up the front to reign them in neatly with a basket weave. A simple flat-twist could also work. Finally, let your bangs down and slay the day.
10. Karibbean kurlz
Source: Pinterest
These deep maroon locks set into Karibbean kurls make for a sophisticated bride.
Karribean kurlz are all the rage right now and they look so breathtaking. All you need for this sophisticated look is perm rollers and some time under a drier. Make sure the locks set well before unrolling them gently, and voila! A setting spray will ensure that the rolls don't become undone during the event.
Regardless of the style you choose to wear your dreadlocks on your big wedding day, always make sure that they are clean and smelling good. Use a setting spray to wear the style for longer, and remember the golden rule to keep it moisturized. Finally, adorn your gorgeous mane with jewelry like a tiara, a crystal pin or a floral comb to flatter your feminine side. Like they always say, a glammed up bride is a happy bride.