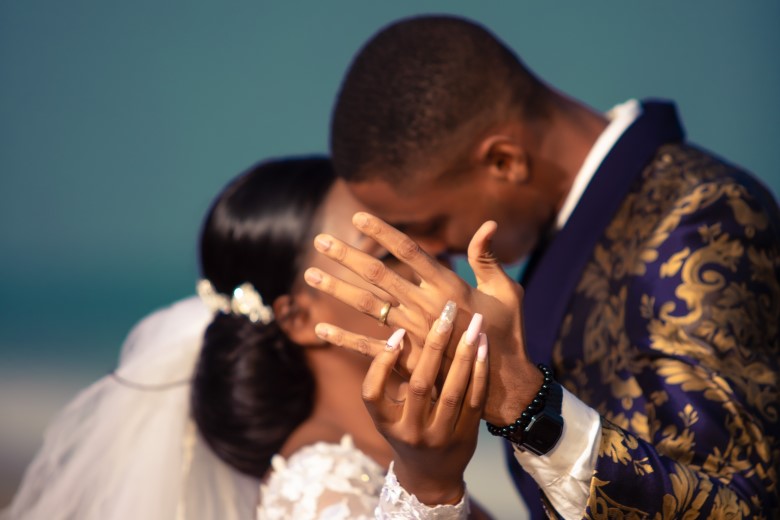 Best 10 popular Box Braids hairstyles for weddings
The holidays are around the corner and one thing for sure is that there will be many weddings. One challenge with African hair is that it is difficult to style, especially to look slick and elegant. This is why many African ladies prefer box braids as they are versatile and one of the best protective styles for natural hair.
The best part about box braids is that with a little styling, they can make a gorgeous hairstyle for a wedding ceremony. Here are the best 10 popular box braid hairstyles for weddings, whether you are the bride, a flower girl or maid of honour.
Box braid hairstyles for the bride
French box braid lockup with a side sweep
This bride has her hair woven in a French braid tied at the back and with a front side sweep.
This gorgeous style is very common with weaves, and it can be replicated for box braids too. The box braids are plaited into two neat French braids, which are then tied to the back with pins and a cute side sweep in front. This style is very flattering as it leaves the face open so all the attention is on the bride's beautiful face.
Long box braids with a Senegalese donut knot
This Senegalese donut knots is eye-catching and helps to keep off hair from falling onto the face.
Senegalese ladies love their box braids long and chunky. To keep the braids in place, they are tied in cute knots above the face. You can choose from a donut knot to a bow tie knot or a high bun knot. Secure the knot with bobby pins to keep it away from the face. You may choose to have a half-up half-down style, or tie all the box braids into the knot. Either way, it makes for a stunning bride.
Pencil box braids wrapped in an elegant Mohawk
A Mohawk doesn't always have to be rough and ragged. If done differently, it's an elegant hairstyle for the bride.
Many people believe that Mohawks are ragged styles, which give off a bohemian street vibe. But if done properly, a Mohawk can make for an elegant box braid style for the bride. To add a feminine touch, the braids are first plaited with Ghanaian cornrows at the front. Then take all the box braids and tie them in a Mohawk. Tuck in the loose ends to make it look neat and secure with bobby pins. And voila! Here comes the fascinating bride.
Box braid hairstyles for the maid of honour
Box braids with an elegant high knot
These beautiful twisted box braids are styled in a high knot to elevate the facial features.
In this style, the box braids are neatly twisted and tied in a half-up half-down style. The top braids are then plaited into four chunky ribbons, knotted together and secured with pins. This style is perfect for the maid of honour as it gives off a mature yet sophisticated vibe.
Box braids in an elegant bow-tie knot
Chunky box braids tied up in a high bow-tie knot.
A different version of Senegalese twist is the three-strand box braid as seen in this picture. The chunky box braids are styled in an elegant bow-tie knot. This style is perfect for the maid of honour, or the mother of the bride. It gives off a sophisticated vibe - not too formal and not too casual. The best part is that the braids can be quickly unpinned to a more relaxed style fit for the wedding reception or the evening after-party.
Box braid hairstyles for the bridesmaids
Triangle box braids with a tinge of colour
Maroon and black box braids with triangle partitions, ideal for the bridal party.
In every wedding, the bridesmaids are a glamorous addition who add colour to the ceremony and complement the bride. Bridesmaids can rock these amazing chunky braids, which have a triangle partition instead of the usual square one. If you choose to have long braids, then you can let them fall over your shoulder instead of tying them up. For extra sass, the bridesmaids can choose coloured braids to match the theme colour of the wedding.
Simple and neat box braids Mohawk
Long black box braids tied into a simple Mohawk style.
Still on the Mohawk, the bridesmaids can wear this simple yet classy style for the wedding. The long box braids are tied into a temporary Mohawk style and secured with pins. For a more permanent style, they can be braided into cornrows as in the picture, gather up the cornrows into a Mohawk and secure with pins. This is a quick and fun style, which can be done in a hurry.
Side swept three-strand box braids
Chunky box braids with a cute centre partition and gentle waterfall twist.
This style is perfect if you want to look glamorous during the wedding without stealing all the attention from the bride. It is a simple box braid hairdo with a middle partition. The braids fall on both shoulders in a waterfall style, after circling them in a gentle twist. It's a perfect style for bridesmaids or the sister of the bride.
Box braid hairstyles for the flower girls
Box braids tied in a high donut bun with floral accessory
This donut bun is perfect for flower girls because it does not get messed up easily.
Flower girls and pageboys are often the highlight of the wedding, since they usher in the bride. But flower girls are also kids, so they need a versatile hairstyle which will not get messed up quickly, and which still keeps their pretty faces glowing. We love this box braid style, which has been frizzled with a crotchet and tied in a high donut bun. To sum up the adorable flower girl look, tie a flower band accessory around the bun.
Box braid cornrows with coloured beads
This hairstyle is versatile and can be replicated with box braids or natural hair.
Flower girls can wear this gorgeous box braid style to the wedding, which has drop-down cornrows on the side and chunky box braids at the back. The braids have been accessorized with beads and coloured bands for extra oomph. This an adorable and vibrant style for the flower girls who will usher in the bride.
When planning for your wedding ceremony, pick from any of these chic box braid styles instead of the common gel weaves that wear out within a week. The best part about these box braid hairstyles for weddings is that they stay perfect for longer and you can wear them even to your honeymoon. Plus, they keep your natural hair covered and well protected always.