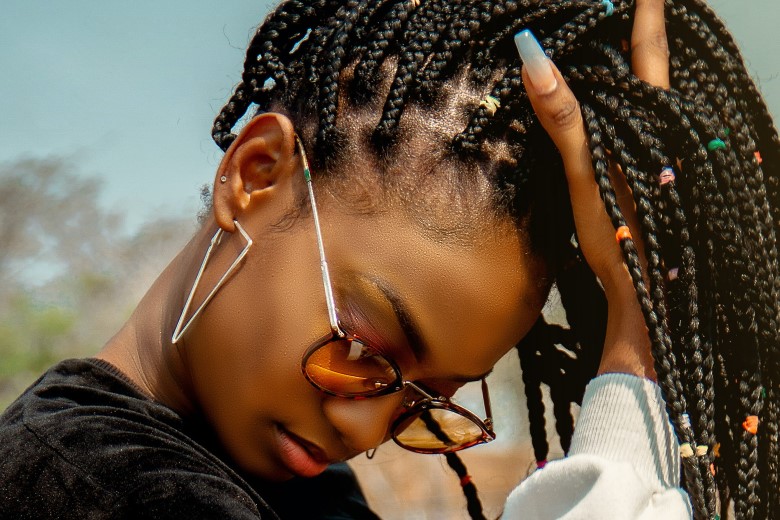 Best 10 Popular Box Braid Hairstyles in 2020
Braids have definitely been around for a long time. And they have evolved from the simple standard 'Bob Marley' to the classy box braids styles and twists. 2020 brought with it a wave of creation and enhancements of several classic hairstyles, and box braids are one of such enhancements. In fact, in Nigeria, box braid styles are the standard hairstyles in 2020.
If you are looking to try out braids but overwhelmed by the various options, this is a good start. Moreover, if you are looking to juice up your braid game and keep up with the trend, look no further.
Here are some trendy and classy box braid hairstyles from 2020 for you:
1. Knotless Box Braids
Right now, this is about the most popular box braid hairstyle in Nigeria. It has won the heart of many, and rightfully so. Knotless braids are extremely light and super protective. The braids are started with your hair at the roots before extensions are added. The way of adding the extensions makes the size of the braids consistent from the roots to the tips, unlike regular box braids.
Knotless braids are not only stylish, like box braid styles but are versatile and easily worn in different ways. They are beautiful when let down and breath-taking when tied up in a ponytail. So, if you like to switch up your looks, this is definitely a good option.
You can make your knotless braids in whatever lengths you prefer. Besides, most of the listed box braid hairstyles here can also be made as knotless braids. Nevertheless, keep in mind that your box braids will not look very full if they were knotted.
2. Curly Goddess Box Braids
If you do not like to have your hair flowing and out of a bun, then this may not be for you because this is a bold choice. The very idea of these box braids is to create an aura of the womanly allure that is associated with long flowing hair. It's a special box braid hairstyle for African women.
Along with being very versatile, this box braid hairstyle will turn heads anywhere as it is a people pleaser. You can style some of it in a high bun or let it all down. Adding some highlights also enhances the look.
Curly Goddess braids are a full and lengthy version of curly box braids. That does not mean that you cannot restyle the braids into a beautiful ponytail. So, if you are worried about perpetually having your hair in your way, it won't.
3. Box Braids with Up Bun
Here is another classy yet trendy box braid style for African women in particular. Box braids with an up bun are great because having your hair up gives room to lay out your 'baby hair.' Therefore, take advantage of this style by slaying your edges and showing off your forehead and cheekbones. High buns are quite popular because they draw attention from the simplicity of your hair to your face. With laid edges and a nicely made-up face, you can get away with your box braids in any event.
If you like a big bun like this one, then go for long medium-sized braids. On the other hand, if you prefer a smaller or taller bun, make long and slim braids. Bear in mind that big buns are heavy. Hence, if you want to avoid placing too much strain on your edges, do not wear them for too long. You can always restyle your box braids whenever you want to switch to this look.
4. Triangle Cut Braids
This style is a step above the conventional 'box-shaped' box braids. You can create different shapes and patterns with the cut of each braid, and they will add an intricately artistic touch to your braids. It is even better when the body of the braids hold a different shade or an entirely different colour than the root of the braids. The result is often a beautiful contrast that amplifies the beauty of the cuts.
You definitely should not have this beauty wrapped tightly in a high bun. It can be styled in a low bun that shows off the triangle cuts or any other pattern you have in your braids. Triangle cuts braids remain versatile as you can restyle your braids however you like.
This box braid hairstyle hints at the creativity and boldness of its wearer. So, if you like to make a statement, or have a little spice added to your box braids, this is for you.
5. Jumbo Box braids
Jumbo box braids, as shown above, are made by parting and braiding the hair in large volumes. This makes the box braiding process quick to make and just as easy to take out. So, if you do not have the luxury of sitting for a 'million braids' or 'micro braids', jumbo braids are perfect. You can choose the density of the braids and its length.
This beautiful hairstyle has thick and beautiful locks that will accentuate your face. You can also opt for a pop of colour as shown in the picture. They are very convenient, and you can easily pull off a semi-casual look with this box braid hairstyle.
Although Jumbo braids may not be a great choice if you are uncomfortable with showing off your scalp, they still serve to make a beautiful hairdo. It is one of the popular box braid hairstyles in Nigeria.
6. Ponytail Box Braids
Ponytails are beautiful on every woman and can also be styled on box braids hairstyles. In Nigeria, ponytails are really trendy, especially with weaves and wigs. Luckily, box braids are not left out of this trend as well.
You can style your box braids in a high ponytail and show off those earrings you love to wear or to tone down an outfit. Ponytail box braids make a very effortlessly casual look a reality. They're great for outings and parties and can pass for a casual work look.
Any box braids hairstyle can be easily styled as a ponytail. However, for obvious reasons, long braids pull off the look better. You can also add in colours to your braids and part them into two ponytails. Stay mindful that colourful hairstyles may not be acceptable in a formal setting.
Ponytail braids are an easy styling option if you do not want to let down your hair or if you do not want to go for a bun.
7. Bob Box Braids