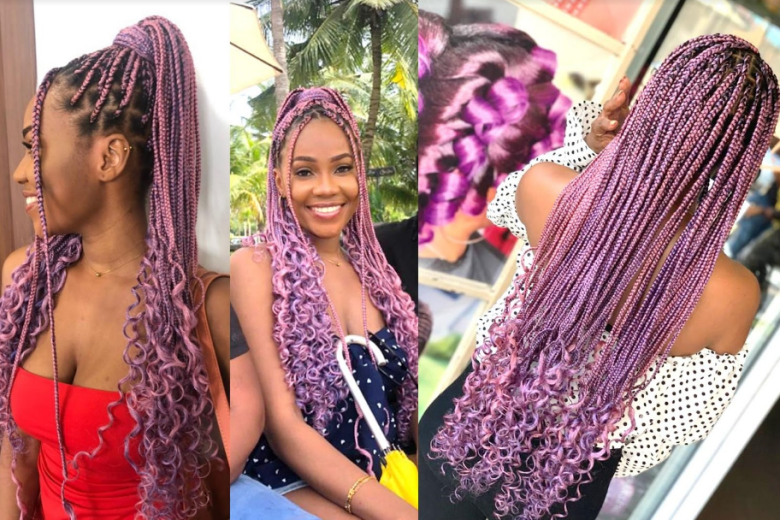 5 Best Ways to Lock the latest "Unicorn Color" Braids
So, the holiday season is just around the corner. Have you decided how to wear your braids in a special way for 2020 or 2021? If not, "Unicorn Colors," the latest color combination that you can have without bothering to dye your natural hair, is a must-try.
The latest "Unicorn Colors" is the combination of pretty ashy pastel colors which brings an outstanding, dreamy and sophisticated look. While it is stunning to mix several colors together, you can pick just one color to make it chic and stylish as well. The trend this year is the ashy hues such as light purple-pink, smoky rose colorand grayish blue. They guarantee you to turn people's heads everywhere you go – parties, shopping, get-togethers and even Churches services. Here are some color & style ideas for your hair inspiration.
Color Flash from Inside
Color used: H-Parma/Parma/Blush Pink/Ash Pink.
The light purple-pink (called H-Parma/Parma/Blush Pink/Ash Pink)are the best matches with the dark colors such as 1, 1B and 2. Make the roots black and continue with these colors, starting around the length of your ear to nape. Bring out the colors from inside, and you will see how dramatic you look. Mashing up the two colors also is a great way to impress your beauty.
Long Mane with Tip Curls
Color used: Rosewood / blue.
Smoky rose color (called Rose wood/Rosewood) is an ashy, chic version of pink. If you are a gorgeous, feminine queen, this is the color for you. Wear it long and give curls at the tips. Mixing it with matching colors such as blue gives a magical effect which makes you the sexiest in town.
Pony & Buns
Color used: Horizon/Metalic Grey/Ash Blue/Silver Grey
Look at this mystic grayish blue (called Horizon/Metalic Grey/Ash Blue/Silver Grey), which brings out your beauty in a very sophisticated manner. Because of its cool color shades, it allows you to try various sassy styles with confidence. Wrapping them up into twin buns? Super-long hair softly braided with a hint of other colors? Check how they make you chic and special.
High-Rise Pony