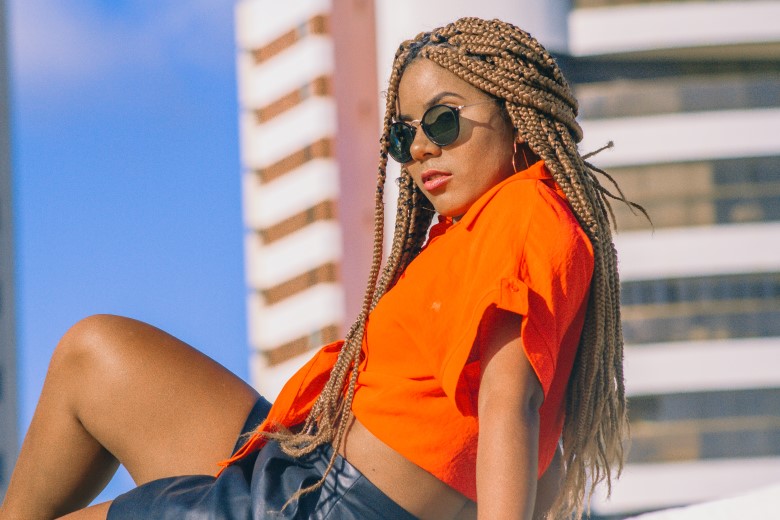 10 Box Braids Hairstyles that will Fetch You Double Takes
When they told us to think outside the box, they weren't referring to braids. To get the best look in braids nowadays, you need to stay in the boxes. We're pleased to introduce to you the Box Braids! The one braids hairstyle you need to make you the cutest babe on the block!
The truth is, braids have evolved and to be considered chic, you need to evolve also. There are many trending braids hairstyles you can try out now and box braids top the list. They come in different styles and can perform magic on your looks.
Box braids earned the name because of the style of cutting. They are divided into square shapes in form of boxes. The cuts are also uniform, giving it a very attractive look. Here's a list of trending box braids styles you can be sure will fetch you double takes.
01. Chunky Box Braids
Source: Pinterest
You will definitely love this style! Chunky braids have this appeal that would make a stranger want to touch your hair. No lies. This is because the braids are bold and well emphasized. If you're in a pool of ladies, you're likely to be easily spotted because of this lovely style. Not only that, the boxes and their arrangement become very obvious, making you extra beautiful.
If you don't have time to sit for hours at the salon, then this is for you. In about an hour or two, you're out, looking twice as chic than when you entered.
You may decide to leave out some of your hair for baby curls or put some 'brush' portion in the front. It's all up to you. Be ready to use a lot of hair extensions though. This style gulps quite a lot of extensions, depending on how bulky the braids are.
You also need to look out for your edges if you're making this style. The volume of hair extensions may pull your hair at the root, making you lose some of your edges. One way to avoid this is to leave out some of the edges and use them as baby curls or as 'brush'. Also, ensure you moisturize your edges regularly while wearing this style.
02. Triangle box braids
Source: Pinterest
Don't be confused! Yes, we said box braids come in squares, but they can also come in triangles. Box braids started with the square shapes but hairdressers got creative and decided to make some in triangles. And why not? Because they look absolutely gorgeous.
This is one sure way you can rock your box braids and get noticed any day anywhere. If you think the patterns are attractive with the square cuts, they're even more so with the triangle cuts. If you ask us, we'll say it adds a little bit of sexiness.
Whether for big, medium or tiny braids, this style ensures you're the cynosure of all eyes wherever you go. Add some accessories like beads or rings and you'll be the hottest chick in sight. To make the patterns more obvious, pack them in a bun or doughnut. You'll love it! And maintaining it is easy. Just make sure your scalp is well lubricated so that the patterns can remain visible for long.
3. Short chunky box braids with mini curls
Source: Pinterest
If your fashion goals are simple and sophisticated, then step forward. This box braids style is simple yet extremely chic. Isn't it funny that the best things don't require much effort? This hairstyle needs very little extension. After the braiding, you'll just use a curling tong or rollers for the tips and you're good to go!
Before you rush to the salon, here's one caution you need to take. Ensure your hair is well relaxed before making this style. The reason is simple. You'll be showing a lot of your hair, and if it's not well relaxed, it will mess up the style.
There's another caveat, Pretty. Don't be tempted to use gel to make your hair lay well. This will backfire, trust us! The gel will soon cake and leave your hair 'standing up' in the most unattractive way. That's not all. The gel will convert to dirt and make you look untidy. And we don't want anything ruining your drip, do we?
4. Long box braids with lush curls
Source: Pinterest
What's that saying again? Anything worth doing at all is worth doing well. Right. If you're doing box braids, you might as well go all the way! Warning, this style is only for Divas. Do it only if you consider yourself one. This box braids hairstyle is a combination of many winning features. It has the box pattern, it is super long and it has lush curls. It definitely has all it takes to turn heads every time.
There are a couple of downsides, however. If you don't like sitting for too long at the salon, this isn't for you. This style will take quite a while. Also, if you don't like weight, you might want to have a rethink. It is long, which means it will take a lot of hair extensions. Lastly, if you like to have some breeze on your scalp, you may want to pass on this. It is thick and full, which means minimum breeze for your scalp.
The maintenance is quite straightforward. Just make sure you moisturize your scalp well and oil the extensions also. Don't forget to get a firm and large hair net. This will make it easy for you to pack them well so you can sleep well. Nothing should rob you of your beauty sleep. Not even a style as sleek as the long box braids with lush curls.
5. Three-tone half parting box braids
Source: Pinterest
Why have one when you can have three? Call us Oliver Twist but we're loving this three-tone box braid style. Really, what's there not to love? The parting makes the face more prominent. The tones cascades graciously into one another. From black to gold to blonde. Amazing, isn't it? Oh, and the length! It is long enough to showcase the beautiful blend of colors. It also has some tiny weaving at the centre to give it that special African touch.
With this hairstyle, all you need to wear is a smile. And don't forget to add some bounce to your steps. This is because you'll be commanding a great deal of attention.
To maintain this style, make sure you moisturize the weaving at the centre very well. Don't forget your scalp also. We don't want it getting scaly, do we? Also, watch out for the shape of your face. If side parting suits your face better than centre parting, please opt for it. Lastly, you will need a good sleeping hair bonnet so you'll be comfortable while sleeping.
6. Knotless Bohemian box braids
Source: Pinterest
Are you fed up of all traditional types of braids and want to switch your style in a most refreshing way? Look no further! The knotless Bohemian box braids style is your best bet. It is non-conventional and very classy. To make it, you'll need a curly extension. And while making the braids, a few strands are left out to give it that wavy look.
Another option is to use an extension that can be curled. A few strands of the hair extension are left out and later curled. Whichever option you choose, you're certain of a very glamorous look. It is perfect for you if you like braids but don't want the weight that comes with it. The curls bulk it up without making it heavy.
The tricky part of this style is in getting the right extension to use. You have to go for really good quality because the curls can lose their lustre and silk over time if the extension is not of optimum standard. Whether with the triangle or square box pattern, this style will make you always hold your head high.
7. Color fusion box braids
Source: Pinterest
What's the point of being fashionable when you end up being ordinary? The whole idea of being stylish is to make a statement. And what better way to make a fashion statement than this box braids color fusion. This is another level of class.
If you're tired of 'boring' and want something out of the ordinary and exciting, then this is for you.
To make this style, you need to first decide the color combination of hair extensions you'd like to use. In choosing this, ensure you choose one that suits your skin tone, and of course, your personality. You may go for bright or cool colors depending on your preference. Just don't let the colors be dull, otherwise, it will defeat the purpose. The colors can be two or three but they shouldn't be more than three.
Getting premium hair extensions is also of great importance here. Poor quality extensions will look drab with time and will mar the style entirely. Plus the colors will make it look haggard easily. Therefore, you need to ensure your hair stylist uses the best extensions. This hairstyle is so electric, you may need to avoid the main road so as not to cause traffic as a result of admirers.
8. Tiny weeny box braids
Source: Pinterest
You remember the days of million braids, don't you? Well, those days are not entirely over. Million braids just made a huge comeback with these tiny weeny box braids.
So, how's this different from million braids? It's in the boxes, baby! The square or triangle cutting makes the tiny weeny box braids different from the old million braids we know. Million braids are cut unevenly and without any particular shape while these ones are cut in even and deliberate shapes. Also, the million braids were usually twisted but these ones are braids. You get the difference now?
To make this hairstyle, you'll be needing a lot of extensions. This is because the braids will be many and full. Again, quality extensions are essential here. Also, you need to be ready to sit for a long period of time if you're making this style. You already know why! It takes hours to get it done, even if you have many hairdressers working on it at the same time.
The good side is that you get to carry this hairstyle for much longer. So, if you're the type that doesn't like carrying one hairstyle for a long time, this is not for you. The best benefit of the tiny weeny box braids is that you get to pack it many ways. And some ladies say the longer it stays, the finer it gets. Please let's know if this is true when you make yours.
9. Mohawk box braids
Source: Pinterest
It may be a good time to stop reading now if you're not bold and daring. Oh, you're still reading? Great! That means you're confident and courageous. So, let's go! As you can see, this hair is not for the fainthearted. It requires you to shave both sides of your hair and then braid the middle, using square or triangle cutting.
This style, apart from being daring, could be tricky. Please don't make this hairstyle except you have a renowned hair stylist who has a track record of making this particular style. There have been tales of woe from people whose hairdressers have said they could make it, only for the story to turn sour. We don't want that for you. But if you get someone who can make it, this is actually the bomb. Not only is it unique, it is very very classy.
You need a certain degree of poise and confidence to pull this off. Like we earlier said, it's not for the lily-livered. It will draw a lot of attention to you and you have to be ready to take it. Not only that, you need to glam up with this look. You can't afford to wear anything drab or unbefitting. Your dressing must always match the hairstyle.
Your skin is another area of concentration. Just like low cut, this style makes your skin more prominent, and therefore, you have to keep it as flawless as possible. You may need to apply more makeup than usual if you have skin issues. With a pair of dangling or drooping earrings, you're set to storm the world.
10. Rainbow ombre box braids
Source: Pinterest
Rainbows come after the rain. They cheer us up and make us hopeful. So, if you're looking for some cheerfulness in your life, you need to try this hairstyle. Again, if you're the type who can't handle too much attention, this is not for you. This is a combo of many bright colors, and like ants are drawn to sugar, eyes will be drawn to you.
To make this hair, you need a combination of really bright colors. And no, they don't have to be the exact colors of the rainbow. Any vibrant colors of your choice will do. Just ensure they're many, like five and above. That's what brings out the beauty of this hairstyle.
Not to forget, when you're wearing this style, watch out for color selection in your dressing. You already have so much color on your hair, you may want to tone down on the colors of your clothing. Wearing too many blinding colors might be a little extra. But if you're sure you can pull it off, why not? After all, style is personal.
As you can see, box braids are a big hit at the moment. What's even more interesting is that there are varieties of styles for you to pick from. To be honest, you've not started being stylish if you've not made at least one of the above hand-picked trending hairstyles. So, which are you making next? Is it the chunky box braids, triangle box braids, color fusion box braids, knotless Bohemian box braids, three-tone half parting box braids, tiny weeny box braids, or rainbow ombre box braids? Whichever you settle for though, one thing is sure. People are going to be doing double takes when they see you. Enjoy!