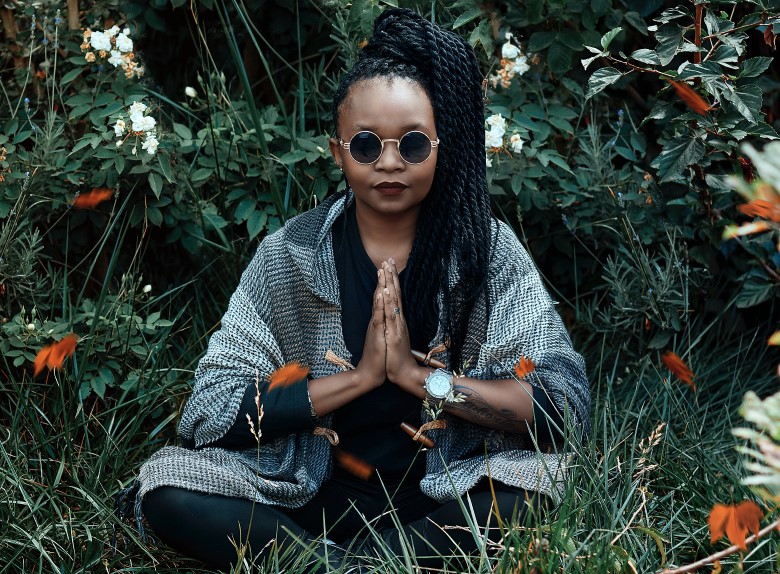 10 Best Ways How to Twist Your Natural Hair Without Extensions
At last, you can wear your natural hair with great pride and not cover it up with weaves or have it permed. About a decade ago, you were considered unfashionable if you displayed your kinky African hair. But it's a different ballgame right now. You can show up at a party with your beautiful kinky hair. That's not all, you now also have a lot of splendid styles you can make with your hair. One of such styles is twists. You're used to making twists with extensions. But have you tried twisting your natural hair? If not, here are ten ways you can twist your lovely hair without extensions.
1. Upswept updo with front side sweep
Who says kinky hair is not beautiful? Well, here's your chance to prove them wrong. How? By making this absolutely gorgeous twist style, of course! The contrast of the updo and sweep gives your face the perfect look. So what does it take to make this lovely hairdo? Not much, really. But first let's tell you what you won't be needing. You won't be needing hair extensions! Isn't that great news? We thought so!
You'll need a 3c to 4c hair to make this style. The thicker your hair is, the more beautiful the style will be. Also, your hair has to be a little long. The side sweep will be more beautiful if you have long hair. For you to really rock this hair, you also need to have a clean scalp. So, if you're battling dandruff, you may want to treat it first. This is necessary because the style exposes your scalp and if it's scaly with dandruff, then it would ruin the style. When is your next party? Whenever it is, it would be a perfect time for you to rock this amazing twist style. Remember to take some pictures!
2. Updo with flat twist
If what you want is something simple, functional and pretty, then you should try this. This style frames your face so perfectly, enhancing your features. It's also very simple to make. So you won't have to dread salon visits for this style. In an hour or so, you're out and looking super pretty. Again, this style is most suitable for a 3c to 4c hair. You can make it if you have less density hair also but it's just that the beauty really comes out when the hair is full.
This hairdo is great for almost any kind of outing. You can wear it to the office, party or pool. Just ensure you accessorize as appropriate and you're good to go. For this style also, you'll need your skin to be clear because it lays much emphasis on your face. If you have great skin, it would be a great way to showcase it. And if you don't, you may need to wear some makeup so as to make the style really fit you. The best part is that this style lasts really long. All you need to do is to moisturize your hair and scalp daily and you'll be stepping out with so much awesomeness.
3. Chunky updo with mini front curls
If you're high spirited and fun loving, listen up! This is one funky hairstyle you'll love. One glance at you and you'll come off as a bubbly and upbeat babe. Plus this is a very trendy style. But wait, why didn't we come up with these lovely hairstyles since? When all we could think of doing with our natural hair were cornrows and Bob Marley. Anyway, any time is a good time and this is definitely a good time for you to try this hairdo.
Aside from this style being really cute, it is actually something you can do for yourself if you know how to twist. And if you don't? Cheer up! You can always learn online. Here's how you can make it yourself. Cut a sizable portion in front and pack it. Then start cutting the back portions into chunks. Twist them up to meet the front portion and find a way to tuck them in. As for the front portion, moisturize it well. Then apply a good curl cream evenly. Weave or twist the hair into small portions. Wait for them to dry and loosen them. There you go! You have a beautiful chunky updo with front curls.
4. Side wave twists
This is one hairstyle you can make whether you have long or short hair. It turns out well regardless of the length of your hair. It is actually not a new hairstyle. It's been around for ages. But who knew we could use our natural hair to make it without extensions and it would still look fabulous? Anyway, we learn everyday. Over the years, fashion trends have gotten very creative and hairstyles are not left behind.
So, it is with such delight that we introduce you to side wave twists with weaving. There is hardly any shape of face that this style does not suit. As long as you have a face, you can be sure you'll look great in this hairdo. You can decide to pack the braids with a hairband or leave them dropping on your neck, depending on how long your hair is. The only snag is that the woven side at the front may get rough easily. To avoid this, ensure the lines are well lubricated.
5. Weaving clapback with front side sweep
Sometimes you just want to wear a very comfortable hairdo that will let breeze blow into your scalp. When you find yourself at such a time, simply opt for this style. Though simple, it gives you the opportunity to be creative with the back. You can decide to make it in arcs or into zigzags. It's your hair, so feel free to get as creative as possible.
The clapback is an ancient style that is still very fashionable. We all remember having to make it for school as teenagers. Good old days, right? Well, it's time to recollect those fond memories and relive those beautiful days. Ensure the clap is well woven as that is what will bring out the beauty. If it's separated, it will make the style look untidy. And that's not what we want.
As for the front side sweep, choose your best side. Some people prefer the right side while some think the left side works best for them. Decide what works for you and go for it. Just ensure you oil the hair regularly and you'll be fine. Very fine.
6. Updo with maxi front curls
Curls, curls, curls! Who doesn't love curls? Obviously not us. Curls are very cute and they make you look super pretty. What's that saying again? Yes, the more the merrier! The more curls you rock, the merrier you are. Sounds good, right? We think so too! This style lets you wear as many merry curls as you wish. Almost half of it is curly and that's why we're loving it. The size of your twist updo is entirely up to you. You may like it chunky or you may prefer it thin. Whatever makes you happy.
And the curls are quite easy to make. Get a good curl cream. Ensure it's a really good one as some can make your hair scaly after a while and you wouldn't like it. You can ask your stylist for recommendations. Next, moisturize your hair well. Proceed to apply the curl cream. Make sure it's evenly applied. Then begin to weave or twist the hair into small portions. Let it dry and begin to loosen them. Take a look at the mirror and see just how gorgeous you'll look. If you think it's too much of a trouble for you, or you don't know how to twist, then head to the salon. You'll absolutely love the look.
7. Updo with mounted twists
Who says you can't look simple and cute? Sometimes, you really don't need much to look classy. This style is a throwback with a twist. Pun intended! Our mothers made this style and passed it on to us. Now, we're making our mothers proud by being more creative with it. Add to it the youthful memories and we have the perfect hairdo.
This is probably the easiest style to maintain ever! You may even forget you're wearing any hairdo, until you get the occasional admiring glances that jolt you back to reality. As it is simple to wear, so is it simple to make. Simply twist or weave the updo and then twist the front portion into tiny bits. Next, weave the front twists into a mount and tuck it well. You may need to sew it to make it firm. Accessorize with some hair rings and be ready to stun your world.
8. Half parting flat and folded twists
Apart from looking pretty, we also need to twist our natural hair so that we can protect it from harsh weather and dust. And if you ever need a protective style for your hair, you have this. This style is very elegant in its own way. It is easy to make and takes little time. The half parting is always a hit. You can decide which part you want it, right or left. This hair gives that soft, sexy maternal look. What's more, if well maintained, it can last for quite a while.
Another beautiful thing about this hair is that you don't need long hair to make it. With your medium or short hair, you can still look smashing in this hairdo.
The special feature is the fold at the back. You can decide to fold the braids in or out. Both are nice, it's all a matter of your preference. You may also need to sew it firmly so it wouldn't scatter because the fold is its main appeal. Maintaining it is easy too. Just endeavor to moisturize it, especially the scalp. The clearer the lines are, the more beautiful this style is. Be sure to give it a try soon.
9. Centre parting long twists
You've got long natural hair? We've got great news! They say if you've got it, flaunt it. But we say if you've got it, it would be a sin not to flaunt it. And we'll be right! Many ladies would give an arm and a leg to have your long, silky natural hair, so having it and not showing off would be a crime. Lol. But seriously though, you have more style options if you have long natural hair, and this centre parting twists is a good one.
Yes, this is an old style but it's a classic. And its beauty is in its simplicity. Again, there's no one this hairdo doesn't suit. It doesn't matter the kind of face you have, this is one hairstyle you can be sure to count on.
Maintaining it is also very easy. Moisturize it regularly and ensure your scalp is well oiled. You can use a sheen spray, oil or cream. Anything works as long as it moisturizes. You can leave it floating on your shoulders or you can pack it with a beautiful hair band. You can also put a couple of hair rings. It's a matter of choice.
So, you think you're cute? Make this style and push your cute game many notches higher.
10. Bob twists with weaving
You'll definitely be needing a 4c hair to make this hairdo. Also, your hair shouldn't be too long as the beauty of this style is in its average length. So, not too long and not too short. Are we good? Great! If you're looking for a style that frames your face perfectly and which also lasts for long, then this is it! Because it is full, it may take a while for you to make, like three hours on the average. But you can be sure it will be worth it.
You can decide to have the bob in front or start from the sides. It's your call! You'll need to take the shape of your face into consideration though. If front bob fits you better, go for it. If side Bob is your lucky look, then opt for it!
To maintain this hairstyle, oil it very well, especially the scalp. This style needs no packing. Just oil and go. You may need some pins to keep some strands in place. And you may leave it as it is. It depends on what you want. Make this style and you'll be one hot chick.
Your natural hair is your pride. Treat it with love. More so now that it's very trendy to rock your natural hair, don't be left behind. There are so many ways you can care for your hair and one of such is making lovely, elegant styles with it. Twists are at the very top of the ladder and whether your hair is short, long or medium, you can be sure to find a couple of befitting styles that will make you turn heads. So, tell us, which of the hairstyles above is your favorite?